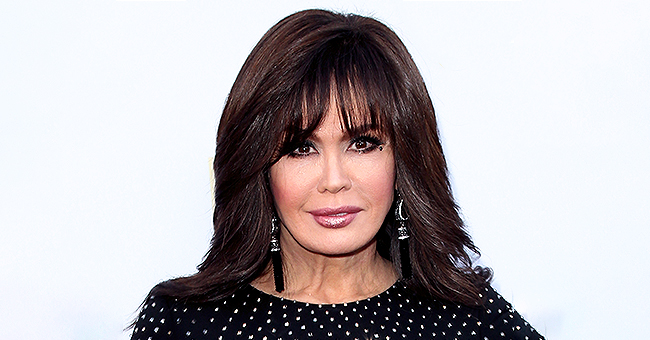 Getty Images
Marie Osmond Shares Rare Pic of All of Her Grandkids and They've Gotten so Big

Popular American actress and singer, Marie Osmond, takes to social media to share a photo of her beautiful grandkids.
Marie Osmond is a 59-year-old actress, singer, author, and Talk show host. She is perhaps popularly known for co-hosting the TV show "Donny and Marie" alongside her brother, Donny Osmond.
Recently, Osmond took to her Instagram page to post a photo that featured herself surrounded by all of her grandkids. She had a lengthy caption to go with the post:
"Photos can look perfect, but did you know that everything isn't perfect? In fact everything is "perfectly imperfect!" We make perfect by our choices."
She then went ahead to share a quote she read about this week:
"Be happy, not because everything is good, but because you can see the good side of everything."
After sharing the quote, she continued the caption, explaining what she feels it means.
"See the verb in front of the word "happy?" That little verb says it all… "BE." That's our action, our thing... to just do it and choose to be happy. If it rains on your wedding day, be happy; if dinner doesn't turn out, be happy, even if you don't want to be happy… just choose to do it because you can make happy your default emotion."
The caption drew on as Osmond emphasizes the need for positivity while reminding her fans and followers that the clean, fancy lives flaunted on social media is in contrast to reality.
Here, she chipped in a quote from her mom:
"Marie if you want to create a habit, or break a habit, you can do it in 30 days. Just be consistent for a month!"
Concluding the caption, she admonished everyone to choose happiness and keep it close, stating that that was the choice she'd made.
"Choose HAPPY and don't let anyone or anything take it away from you!! Let me know how it goes... in a month! ? Right now, I choose to not stress perfection, have a messy house and share lots of happy memories with my grandkids," She finished.
The message was received as fans of the 59-year-old actress thanked her for the advice:
"Thank you for this and God for sending to me when I needed it most. Be happy," a fan stated.
Marie Osmond first came into the public eye while she was still a toddler; she had strayed across the stage on which her older brothers were performing.
Then in 1970, Osmond signed with her family label and began making concert appearances with her older brother, Donny. And in 1973, she released her first single as a solo artist titled "Paper Roses."
Osmond has been married more than once and is the proud mother of eight kids. Among the eighth, five were adopted, and three are her biological kids.
Her first hsband was Stephen Craig and with him, she had a son named Stephen James Craig. The couple divorced in October 1985.
A year later, she married Brian Blosil just after Blosil adopted a young boy. He and Osmond later had two children of their own, Racheal Lauren, and Matthew Richard.
Later on, the couple adopted five more kids: Michael Bryan, Brandon Warren, Brianna Patricia, Abigail Olive May, Jessica Marie.
Her son, Michael, died by jumping to his death from the eighth floor of his apartment. He had reportedly been in rehabilitation since he was twelve.
In May 2011, she and her ex-husband, Steve Craig, remarried in Las Vegas.
Please fill in your e-mail so we can share with you our top stories!