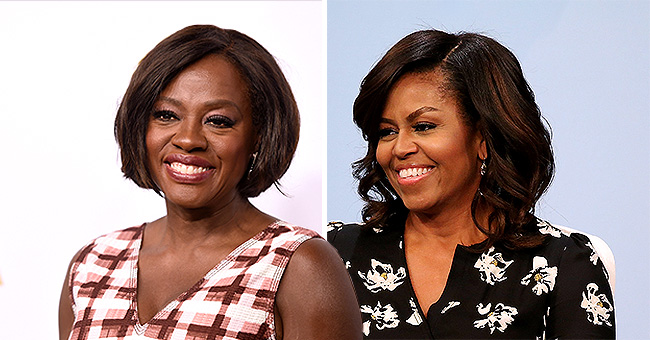 Getty Images
Viola Davis Reportedly Set to Play Michelle Obama in New TV Series
New reports have it that Showtime has set plans in motion for an upcoming television series. They have also enlisted famous "How to Get Away with Murder" actress, Viola Davis to play the role of Michelle Obama in the series.
The series is titled "First Lady" and as its name implies, it will revolve around the president's wife. It is quite rare to find shows or movies that focuses on the First Lady and not the president himself.
Because of this, the series has netizens waiting expectantly to see how it all pans out.
Admittedly, Viola Davis will experience a lot of pressure and although the show is still in development, it has already gained attention as Showtime reportedly gives the show a three-script commitment.
Variety reports that every episode of the upcoming series will air for one hour and that widely-acclaimed author Aaron Cooley will write and executive produce.
The series is quite promising with reports that it will revisit history by depicting the personal and political lives of past First Ladies as naturally as possible.
The first season will closely follow the lives of Eleanor Roosevelt, Betty Ford, and Michelle Obama. Unlike many other films with plots similar to it, "First Ladies" will place great focus on the East Wing of the White House, as opposed to the West.
Viewers will get to watch the powerful women make impactful and world-changing decisions obscured from the public's view.
It is all about women empowerment and netizens couldn't love it more. It is not the first of its kind but is notably the very first time Michelle Obama will be portrayed in a TV series. Tika Sumpter played the role of Michelle in the 2016 film production "Southside With You."
Knowing how challenging the role of playing Michelle in a series may become, Viola Davis, is a rather good fit for the task. The mother of one and her actor husband of 16 years are also reportedly executive producers on the project.
Her sterling performance playing Annalise Keating in "How to Get Away with Murder" as well as the notably remarkable plot of "First Lady" already sounds very promising.
People can only, however, wait with bated breaths as there is still no date confirmed for the show's debut.
Please fill in your e-mail so we can share with you our top stories!