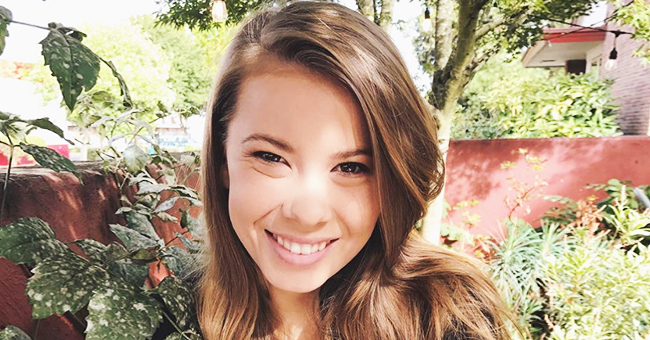 instagram.com/bindisueirwin
Steve Irwin's Daughter Bindi Shares Photos of Her Parents, Fiancé and Dogs on National Dog Day

Steve Irwin's Daughter Bindi Shares Photos with Her Parents, Fiance and Dogs on National Dog Day. Family love is what Bindi Irwin depicts in her recent uploads in which her whole family features.
The wildlife expert's daughter, Bindi devoted an Instagram post to the family's deceased dog, Sui, in a bid to celebrate the International Dog Day.
A dog is indeed man's best friend; the Irwins proved this as they posed with their dog, flaunting the beautiful creature with adorable smiles on their faces.
Young Miss Irwin shared the details of her relationship with Sui during her lifetime. She wrote about how they played and had fun with no worries.
Steve's daughter even took on the name "Sue," in honor of her dog, incredibly sweet! Her post read:
"My middle name is Sue, after our gorgeous family dog, Sui. Carrying her lovely spirit around me through my middle name means so much to me….she will live on forever in our hearts."
Miss Irwin has lots of love to share for her dog and her family, and she stops at nothing to show the world how much they mean to her.
After turning 21-years-old and getting engaged to her beau, Chandler Powell in July, she took to her social media to share a picture of her family and her man.
The post was captioned "Appreciation post," and she featured in the photo with her mom, Terra Irwin, brother, Robert, and fiancé. The soon-to-be Mrs. Powell expressed her sincere gratitude for having such wonderful individuals in her life.
Even in her dad's absence, the feeling of inspiration is not absent, thanks to the remainder of the pack. The apple doesn't fall far from the tree, as Steve's kids all take to the life on the Australian zoo.
Powell met his heartthrob during a visit to the zoo while he was focusing on wakeboarding, his happily-ever-after mate works at the zoo as a conservationist.
She anchors shows like "The Jungle Girl," and co-authored books like Bindi Wildlife Adventures, her brother, on the other hand, presents on the wildlife series, "Wild But True," on Discovery Kids.
After their father's death in 2006, at age 44, his kids have steadily supported his legacy. The "Crikey! It's the Irwins" show, shares the family's lifestyle on the Australian zoo.
Powell is even in on the fun, as his fiancé stated that he learned to feed alligators and jump on crocodiles. The two lovebirds can't seem to get enough of each other and stop at nothing to share their feelings with the public via uploads and interviews.
Shortly after Bindi's engagement, she honored her dad with a heartwarming post and also stated that her teen brother, Robert, will walk her down the aisle.
Hollywood walk of fame celebrated the wildlife expert, and his family attended the event. Mr. Irwin referred to his deceased dad as "the best dad" and an "incredible conservationist."
It's lovely to have a family like the Irwins who never see death as a barrier. They have proved to love genuinely, whether it is their dad or their dog!
Please fill in your e-mail so we can share with you our top stories!