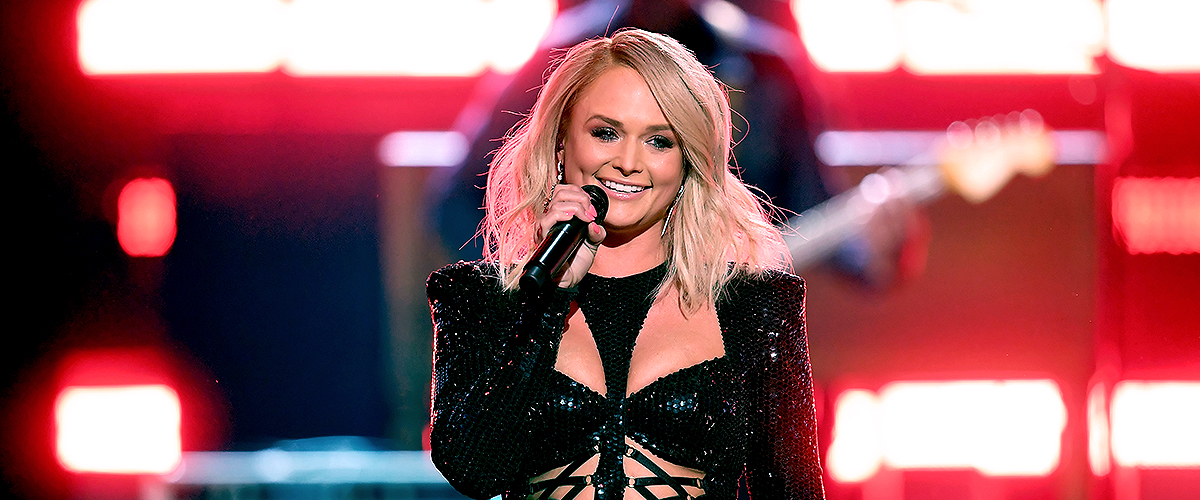 Getty Images
The Meaning Behind All of Miranda Lambert's Tattoos
Most of Miranda Lambert's eight tattoos are quite small, but the meaning behind them is much bigger than the eye can see. Let's analyze them.
Country superstar Miranda Lambert made waves soon after finishing third at the Nashville Star competition back in 2003. Since then, she's earned a number of country music accolades.
She's also earned herself the title of most tattoed country singer thanks to her love of skin markings. At 35, Lambert has a story to tell, and a lot of it is found in her tiny tats.
Heart-Shaped Paw Print Tattoo
On her right foot, The "White Liar" singer sports a pink heart that has four circles lined at the top of it, resembling a paw. The tattoo made its way onto her skin in 2011 days before she got married to Blake Shelton.
The meaning behind the cute tattoo is not to do with matters of the heart, though. Lambert has a love of animals and the tattoo is the logo for her non-profit organization called MuttNation Foundation.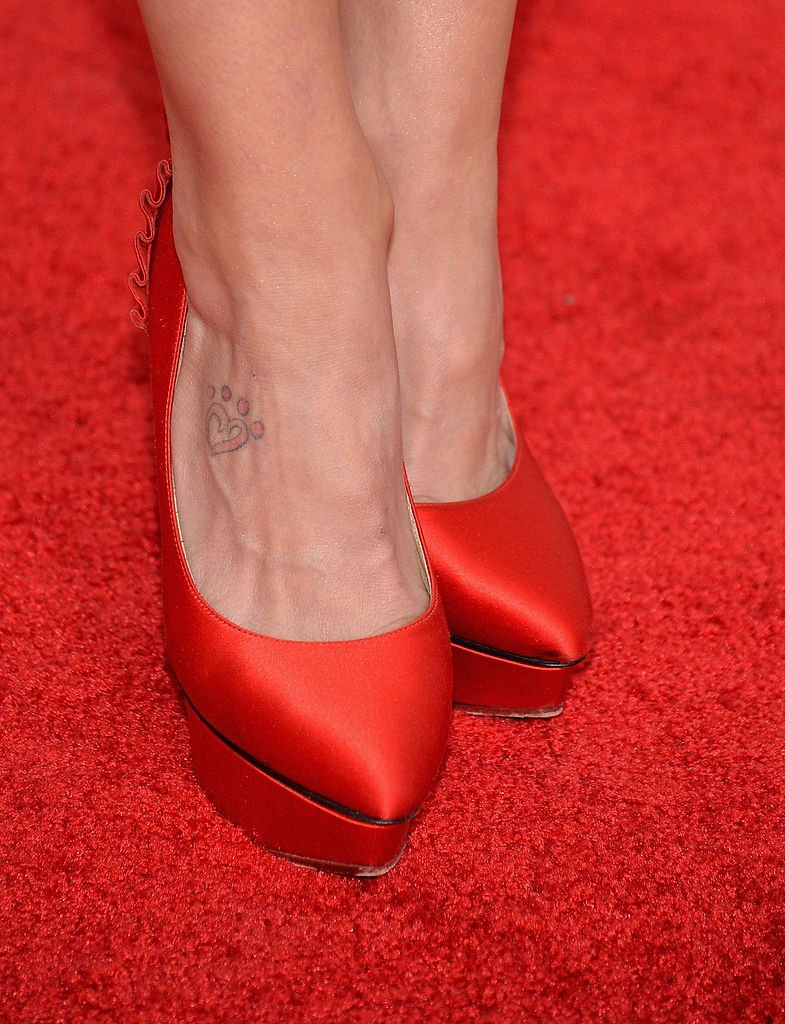 Miranda Lambert shows off paw print tattoo at the 140th Kentucky Derby in Louisville, Kentucky on May 3, 2014 | Photo: Getty Images
Arrow Tattoo
You'll find that Lambert has a preference for subtlety when it comes to tattoos. On the outer part of her right hand, she wears a tiny arrow that points in the direction of her fingers.
Again, Lambert has not told us what it means, but arrows are typically symbolic of defense and protection. Let's hope Lambert directs her thoughts to that arrow whenever she's in danger.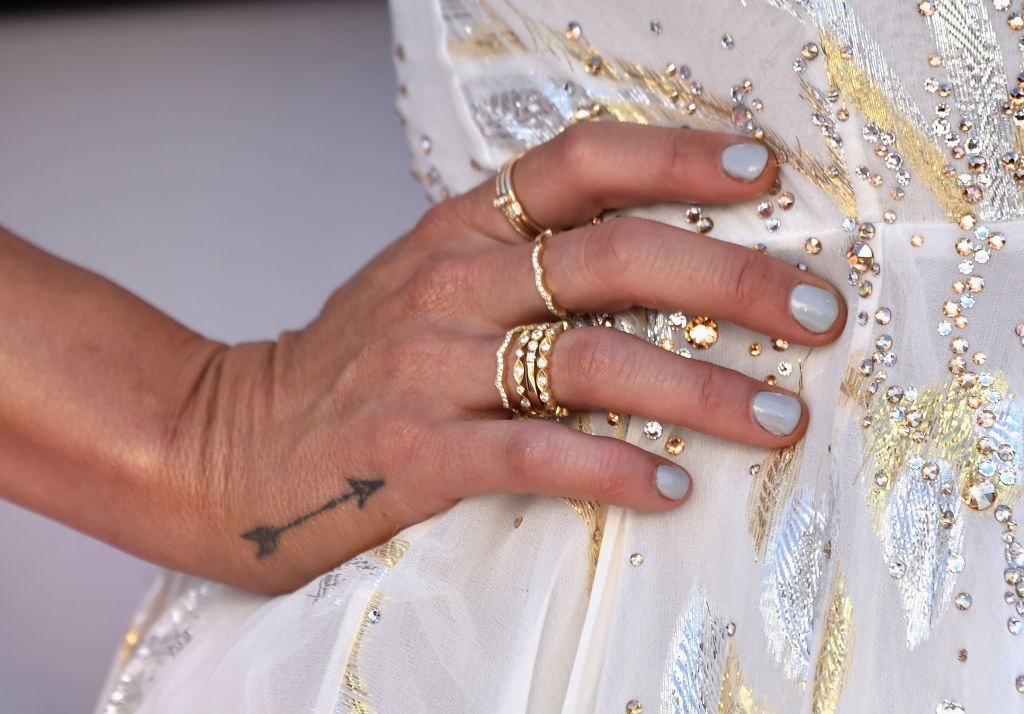 Miranda Lambert's arrow tattoo is displayed as she attends the 52nd Academy of Country Music Awards in Las Vegas, Nevada on April 2, 2017 | Photo: Getty Images
Music Note Tattoo
In 2015, Miranda joined fellow singer Raelynnand and backup singer Gwen Sebastian and got tiny music notes on their right forearms. The three women reportedly commemorated Lambert's Certified Platinum Tour in Tulsa Oklahoma with the new ink.
Of course, the tattoo speaks for itself, but the fact that all three women are singers also indicates that their passion for music will stay with them forever.
Cross Tattoo
Lambert is just as big on her faith as she is on her music. The Christian singer got a small crucifixion cross on her inner right wrist to display her love of Jesus. In the center, a pink heart is drawn in.
Lambert's strong faith can be attributed to how her parents raised her. At one point, they even opened their house to victims of domestic violence and needy children.
Unicorn Tattoo
Just below the crucifix, Lambert has a white and pink unicorn tattoo. It works not only as a reflection of her inner child but is also a common representation of divinity and magic.
"Tumbleweed" Tattoo
Just off her music note tattoo, Lambert opted to get the word "Tumbleweed" inked in all lower case cursive letters. Perhaps Lambert is making an ode to her travels and the marks she leaves behind.
Tumbleweeds plant seeds as they roll over barren land. Additionally, Lambert's home state is Texas, the home of cowboys and shootouts with tumbleweed passing through.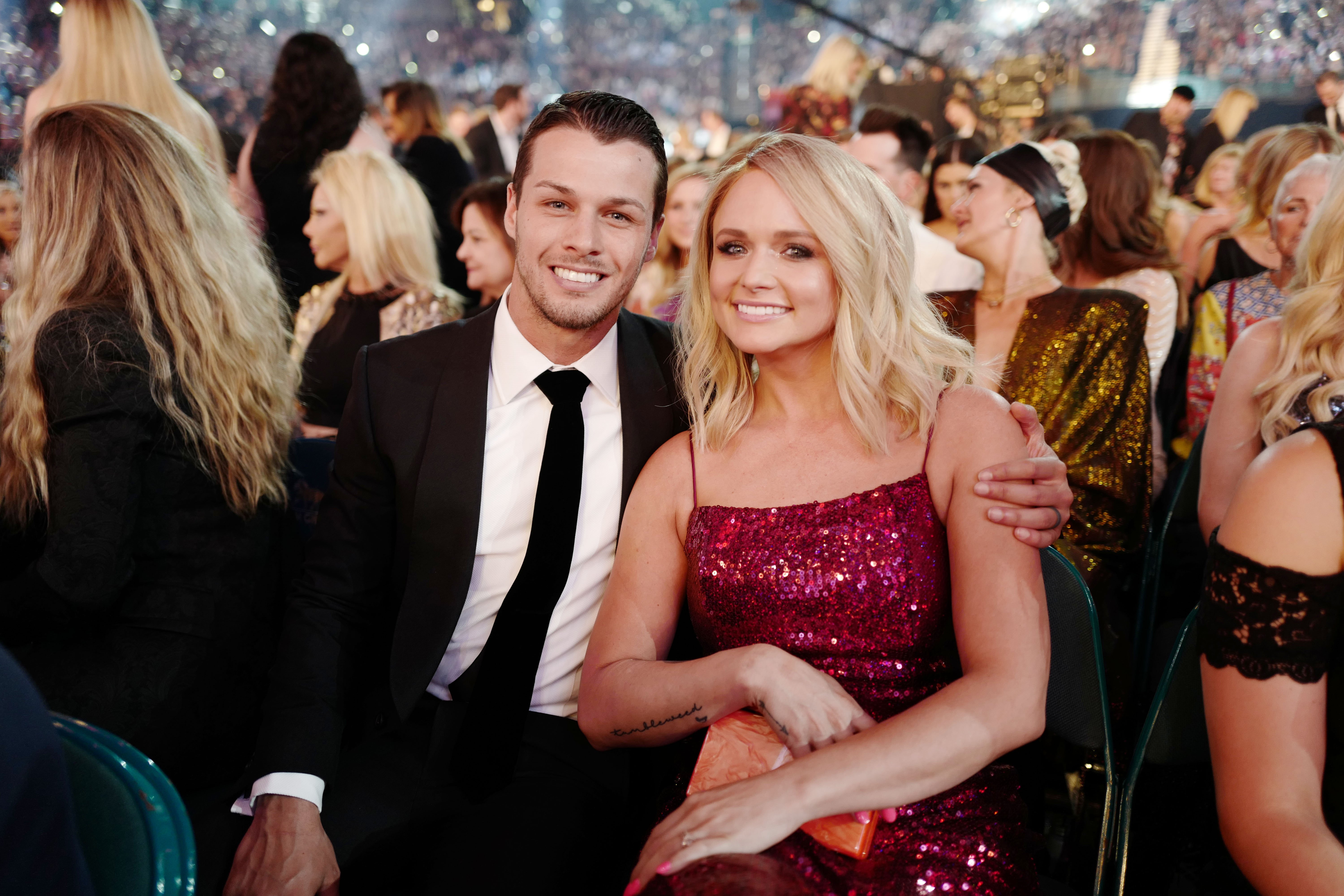 Brendan McLoughlin and Miranda Lambert attend the 54th Academy of Country Music Awards in Las Vegas, Nevada on April 7, 2019 | Photo: Getty Images
Gun with Wings Tattoo
Lambert's left forearm tattoo showing two guns with wings crossed over each other has an honorable mention in her song "Heart Like Mine." In the hit tune, Lambert revealed that at 22 her "daddy cried when he saw [her] tattoo," but loved her anyway.
The gun tattoo is an expression of Lambert's success in the industry. In an interview, she told Meghan McCain it's her "signature," and can be found on everything she has including her logo and all her backdrops.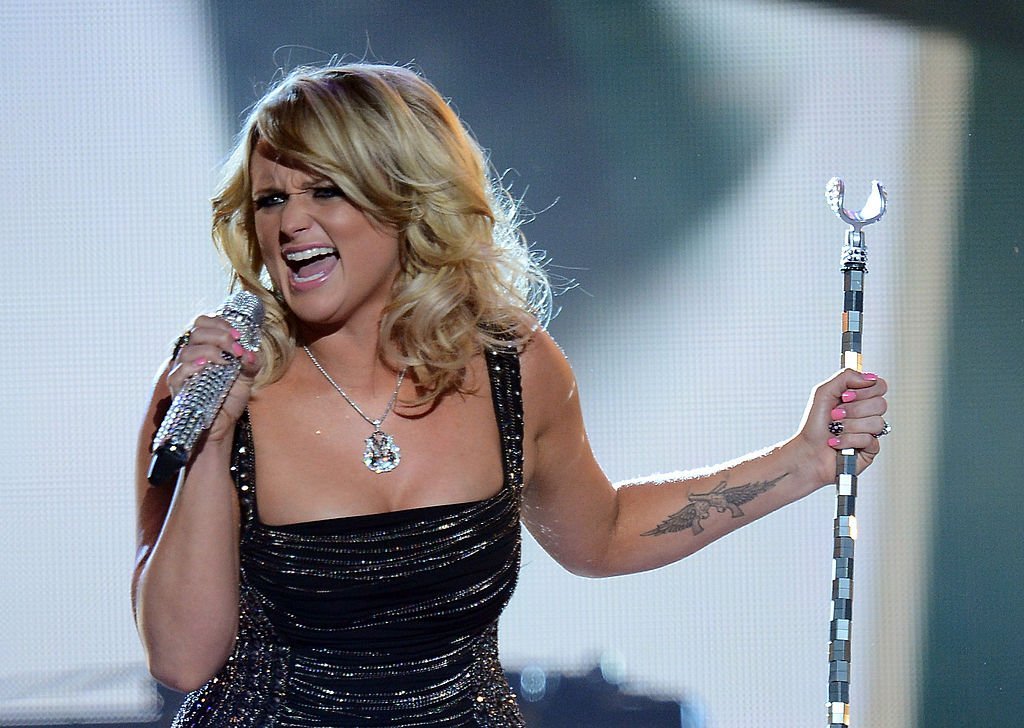 Miranda Lambert displays her guns tattoo as she performs at the 48th Annual Academy of Country Music Awards in Las Vegas, Nevada on April 7, 2013 | Photo: Getty Images
While she obviously doesn't regret her achievements, she did say that she regrets the tattoo only because it made her father upset. It was the first thing she did without going to her parents about it first and resulted in the silent treatment from her father for a week. We're glad to know that the old man moved past the tattoo incident.
Playing Card Tattoo
Lambert's largest and most colorful tattoo lies in the inner part of her right forearm. Sitting there is a playing card with a red heart in the center surrounded by a green pattern.
Two instances — above and below — of the letter M are found in the tattoo. Many presumed that they represent Lambert's first name and her husband's last. After her divorce from Shelton in 2015, Lambert unexpectedly wed Brendan McLoughlin in February 2019.
However, the official word is that Lambert met McLoughlin in November 2018, and she had the tattoo since October. If that's the case, whatever Lambert actually meant certainly assisted her in manifesting her new love.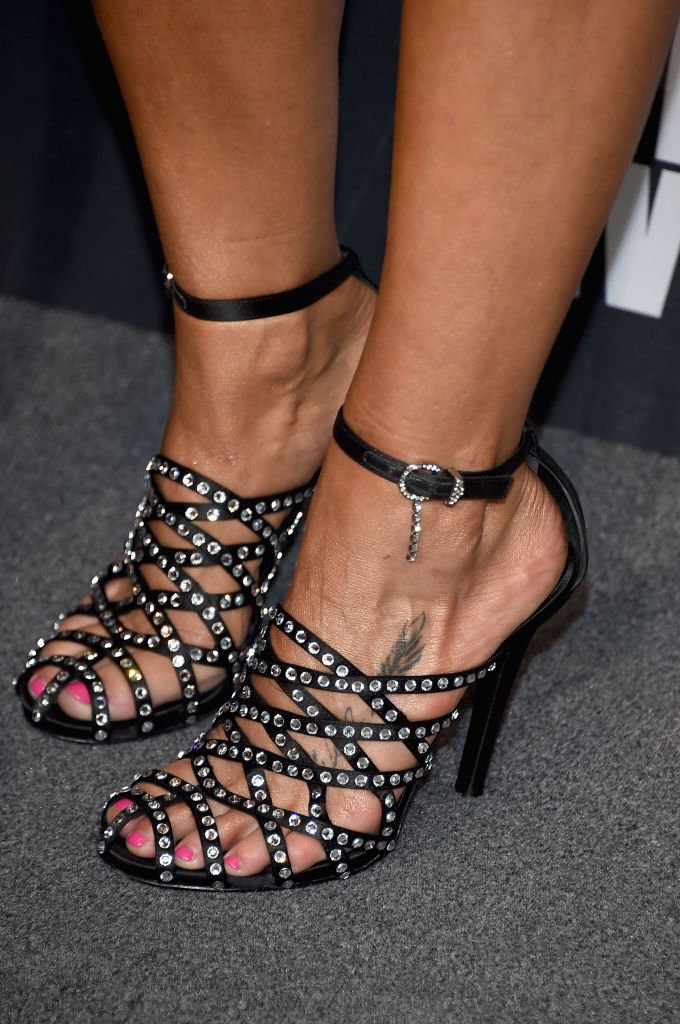 Miranda Lambert shoes of a script and feather tattoo as she attends the 2017 CMT Music Awards in Nashville, Tennessee on June 7, 2017 | Photo: Getty Images
Script and Feather Tattoo
Lambert's vaguest tattoo sits on her left foot. Not only is it hard to make out the words written there, but the meaning behind the feathery ink remains unknown.
We can all agree that it's quite modest and pretty, though. Lambert may be a bit rebellious, but her meaningful tattoos are just another part of this country girl's vibrant personality.
Please fill in your e-mail so we can share with you our top stories!