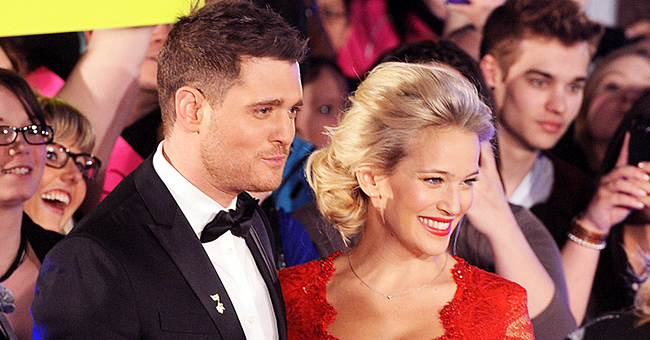 Getty Images
Michael Bublé's Wife on How Son Noah's Cancer Affected Her Outlook on Life
Argentine actress Luisana Lopilato opened up about her son's battle with cancer and how it taught her to prioritize the things in her life. She revealed that there is just one question she asks herself to help her prioritize better.
Lopilato, the better half of five-time Grammy winner Michael Bublé, and the mother of three talked about her son Noah's battle with cancer with an Argentine magazine, "Gente." In October 2016, Noah, the couple's eldest son, was diagnosed with liver cancer "hepatoblastoma" at the tender age of three.
When the couple received the devastating news, they immediately took a hiatus from their careers and relocated to California to stay at Noah's bedside for seven months. After Noah went through the lifesaving treatment, which included chemotherapy, the now 5-year-old is in remission.
Lopilato touched on how she doesn't worry about the "silly things" and tries not to get "bogged down" with stress in the interview with "Gente."
"We [learned] to identify and establish priorities in my life and they changed completely. I don't worry now about silly things, about malicious comments or conflicts," she told the publication.
"When I talk to my family I always tell them, 'Don't get bogged down with fights or stress. Don't forget what we've got.' Nothing is that important. I understood that I shouldn't put up with something that makes me uncomfortable or suffer or I dislike. I ask myself, 'Does this make me happy?' and if it doesn't I then push it aside."
She added that there are still many things that bother her, but there is a huge sign that says "Family" in her head.
During an interview with "People," Bublé talked about how Noha's condition had changed his perspective on life. He also shared that these kinds of circumstances would change anyone, not just him and his family.
"I'm spending my time doing things I love and with people I love, for people I love," he added.
After the diagnosis, Michael's his fans have come up to him to tell him that he and his family have their best wishes. The crooner added that his fans knew what his priority was at the time and they lent him tremendous support.
Both Michael and Luisana have admitted that the incident has changed their perspective on life and helped them enjoy time with their family.
Please fill in your e-mail so we can share with you our top stories!