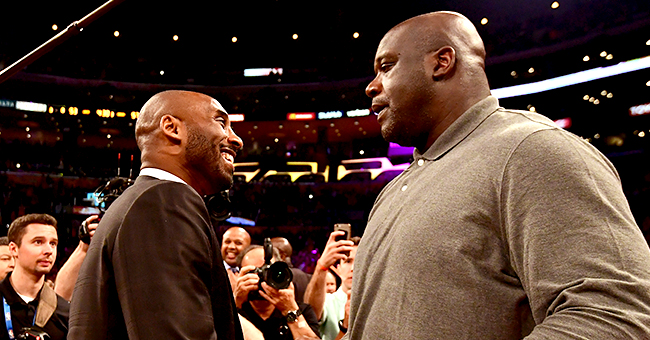 Getty Images
Kobe Bryant Throws Shade at Shaquille O'Neal, Calls Him Lazy and out of Shape in Interview
Kobe Bryant throws shade at his long-time friend, Shaquille O'Neal, calling him "lazy" and "out-of-shape" in a new interview.
Kobe Bryant claims he would have had 12 NBA championship rings by now if it weren't for his teammate Shaquille O'Neal's laziness during their Lakers days.
"I would've had 12 [expletive] rings!"
A "Lazy" Big Man
Speaking to Patrick Bet-David during the 10th annual PHP Agency Convention in Las Vegas, the Black Mamba shared a little bit more about his relationship with Shaquille O'Neal.
When asked about how Shaq would have been remembered if he had Kobe's work ethic, he replied, saying that his friend would have been the best basketball player to ever play the sport.
"He'd be the greatest of all time. He'd be the first to tell you that!"
On Staying Friends
Unfortunately for both of them, that didn't exactly happen, because of Shaq's notoriety for being lazy when it comes to practice and keeping himself in shape.
"I wish he was in the gym! I would've had 12 [expletive] rings!"
While it seems as if Kobe was throwing shade at his teammate, he reassured everyone that he's not saying anything that he hasn't said to O'Neal before. In fact, the two of them talk often and bring up the topic once in a while.
"Me and Shaq sit down all the time and say, 'Dude, if your lazy [expletive] was in shape...'"
A Distinct Friendship
During the interview, Bryant also spoke about the fistfight he had with Shaq when he was 19-years-old, saying that not backing down from the much bigger and older O'Neal was a key moment in their friendship.
"He told me that day was a big turning point for him."
Kobe and Shaq won 3 championships together before parting ways. While they had a feud for years because of not seeing eye-to-eye, they ended up good friends and will go down in Lakers history as greats together.
While Bryant claims O'Neal was "lazy" as a basketball player, he became the opposite when it came to managing the money he's earned from playing the sport.
Multi-Million Investments
Considerably, Shaq is still one of the best retired NBA players. Thanks to this fact, he's earned a fortune not just from the sport, but the multiple multi-million dollar endorsement deals he's signed through the years.
Now, the four-time NBA champion has been investing his money on big deals, the first being Papa John's Pizza. The NBA legend bought nine Papa John's outlets in Atlanta, becoming a permanent brand ambassador and the first African-American board member for the company.
Aside from this, he opened up his own restaurant, "Shaquille's," right across the Staples Center, where he serves dishes like the "Shaq burger" and the "Kobe burger" to honor his friend, Kobe Bryant.
With so many investments, Shaq just proved that while he was known as being lazy as a basketball player, he definitely isn't a lazy businessman, making the most out of his fortune by investing it in multiple businesses.
Please fill in your e-mail so we can share with you our top stories!