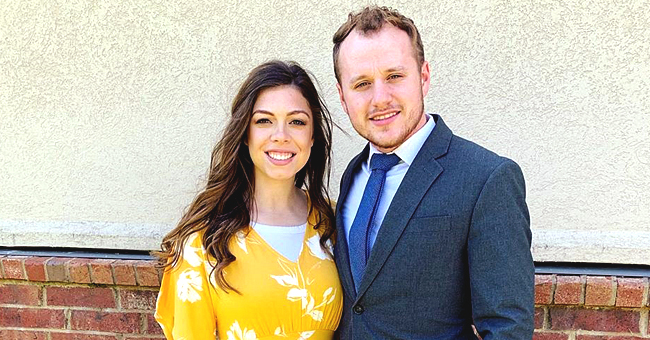 instagram.com/siandlaurenduggar
Pregnant 'Counting on' Star Lauren Duggar Wishes Happy 23rd Birthday to Josiah in Sweet Post

Josiah Duggar is 23! His wife, Lauren, took to Instagram to wish him a happy birthday with a heartfelt message that included the words, "Man of my dreams."
Lauren Duggar (nee Swanson) wrote a heartfelt message on Instagram for her husband, Josiah Duggar.
Lauren shared a photo slide of herself and husband leaning close to each other and smiling, another of Josiah as a little boy, and one of his grown-up version carrying her down the aisle after they said their "I do's" in a church.
She wrote:
"Happy birthday to the man of my dreams! I never knew there existed such a thoughtful, giving, and godly man until I met you!."
Lauren continued:
"I love your dreamy blue eyes and how they sparkle when you look at me, and I love how you can brighten anyone's day with your humor."
The soon-to-be mum said she loves how talented her husband is, how he loves their babies, and "How our little girl reacts to her daddy's voice by her sweet kicks." She ended by writing:
"I am so thankful to be married to such a wonderful husband. I love you, sugar."
Jill and Anna Duggar took to the comment section to wish the celebrant a "Happy Birthday," and the Duggars' wished their son and brother a happy birthday on the family's Instagram account.
While it's a time of celebration for Josiah and Lauren, the couple who got married in June 2018, have had a challenging first year. The reality stars miscarried their first pregnancy, a boy named Asa, and it strained their relationship for a while.
Things got better when the "Counting On" stars realized they had a new baby on the way, and are excited by the prospect of becoming new parents.
In May, the soon-to-be parents shared the baby news, writing on Instagram at the time:
"We are thrilled to announce that we are having a girl."
Lauren wrote that their baby girl whom they refer to their second child has her heart, and Josiah wrapped around her little fingers. The couple chose to call their unborn daughter their second child to honor and keep alive the memory of the child they lost.
They see the challenges they've been through as part of their story, and still considers themselves "Blessed." Lauren and Josiah's baby is due in November.
Please fill in your e-mail so we can share with you our top stories!