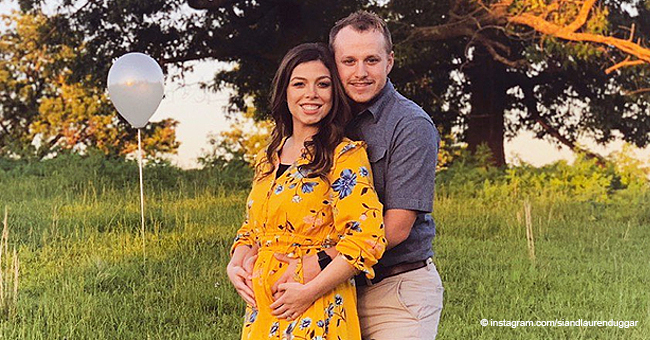 Josiah and Lauren Duggar: Journey to Parenthood
After suffering from a miscarriage last year, Lauren and Josiah Duggar are celebrating her current pregnancy as a gift. Here's a look at their journey to parenthood.
Last year, fans of the reality TV show "Counting On" were left heartbroken after one of their favorite couples, Lauren and Josiah Duggar suffered the loss of their unborn child.
Miscarriage:
Lauren and Josiah revealed that they revealed in an exclusive clip from "Counting On" that they lost their baby in October last year. The miscarriage happened just weeks after they had announced Lauren's pregnancy.
According to the clip, Lauren felt sick one night. She began suffering "really, really bad" cramps and thought it was strange as she didn't experience cramps normally.
"I thought I had something with gluten in it," she said.
"Lauren and I were actually preparing for a trip to go to a friend's wedding," revealed Josiah, 22. "She started feeling really sick and started noticing some different things. Mrs. Swanson was there, so she was able to help her out. I didn't know exactly what was going on."
Lauren decided to go to the bathroom thinking her tummy was upset. Unfortunately, when she went to the bathroom, she realized her cramping was not caused by her diet.
She tearfully recalled the terrifying moment she realized what was actually happening. In the interview she says:
"I went to the restroom, and right there was the baby. Gone. I couldn't believe it, and I was hoping it wasn't true."
Publically announcing the loss of their baby:
In a heartbreaking message on Instagram, the couple explained that "a couple of months ago" they found out they were expecting their first child. Unfortunately, the pregnancy did not last.
"Soon after we miscarried. At first, we kind of wanted to just stay quiet about the news but knew that since everyone is anticipating for us to announce that we're having a baby, we felt like it was time that we told everyone that our first and only baby is in heaven," wrote Josiah and Lauren Duggar.
They went on to say that it was extremely painful when people asked if they were expecting. They opened up about the miscarriage on an episode of "Counting On" later that year.
"You can imagine it was devastating to the both of us," read their Instagram post.
The couple also sent a message to other parents who have suffered the same pain. They wrote:
"To the ones who have gone through this, I know your pain. It's real and terrible. I just want you to know you don't have to suffer in pain alone. It is not your fault. We greatly appreciate your prayers as we go through this hard time!"
The couple later revealed that they named the little angel Asa. The name reportedly comes from the Bible, as Asa was a descendant of David.
First Mother's Day after the miscarriage:
After their announcement of the miscarriage fans were heartbroken for the couple. Needless to say, Mother's Day that year was particularly difficult for Lauren.
"I wish our sweet baby could've seen just how wonderful a mother you are," wrote Josiah
However, Josiah took time to ensure his wife was recognized as a mother even if she did not get to hold her child. He wrote a heartwarming message on Instagram for her.
He began by wishing her a "Happy 1st Mother's Day!" The loving husband then went on to assure her she is a wonderful mother.
"I have seen you love, protect, and how much you have given without getting anything in return. I wish our sweet baby could've seen just how wonderful a mother you are," wrote Josiah.
He went on to say that "not all mothers arms get to hold their little one." Josiah assured Lauren that she is a mother even if she missed out on the things other mothers got to do.
He also added that their "baby was called home to be with Jesus." Fans immediately flooded the comments with support for both of them and agreed wholeheartedly with Josiah's message.
Finding out Lauren was pregnant again:
After the heartbreak and pain of last year, Josiah and Lauren finally had something good to focus on when they realized Lauren was pregnant for a second time.
The to-be father revealed how they found out in a video attached to a blog post on the family site. He claimed he decided to rush to the store for a pregnancy test at 4 a.m. because he had a hunch that Lauren was pregnant.
Lauren further revealed that they both cried with joy when the test was positive. She went on to say they were "overjoyed and just crying because we're just so thankful for another sweet blessing."
Josiah's parents, Jim Bob and Michelle Duggar also made a statement in the blog saying:
"We are so thrilled for Lauren & Josiah expecting! It was very difficult losing their first child in a miscarriage, but now God has blessed them with another child on the way. This year we are going from 12 to 17 grandkids, soon they are going to outnumber our own kids, we are so grateful for each one of them."
Announcing the news:
To announce the news, the couple once again took to Instagram. They posted a series of adorable pictures that showed off Lauren's growing baby bump, an ultrasound. The post also showed a sign that reads:
"Rainbow after the storm."
The sign is a reference to "rainbow babies." These are babies that are conceived after a miscarriage because they bring hope for the future.
"It's hard to fully express just how grateful we are for God blessing us again with another precious gift!" the couple wrote in their caption. "So, as we rejoice of the life of our second sweet baby, we also remember (balloon as symbolism) our other sweet baby, Asa, in heaven. God is so incredibly good!"
Lauren's first public appearance after the announcement:
Fans of this adorable Duggar couple got their first peek of Lauren's baby bump just days after the announcement. The pair attended the wedding of Carlin Bates and Evan Stewart, from the show "Bringing Up Bates."
It was her first public appearance after the announcement of her new pregnancy. The mom-to-be proudly showed off her growing bump in a white floral dress. She completed the outfit with a thin red belt to accentuate her growing baby bump.
Gender Reveal:
The couple showed fans a glimpse of their reported gender reveal party in an Instagram post. According to reports, the event was attended by family and friends.
During the party, guests were instructed to pop several balloons filled with white, pink and blue confetti. The last balloon contained an explosion of pink confetti indicating the couple was expecting a girl.
In
their Instagram post
, the first pic was a black and white photo showing Lauren and Josiah holding a frame saying "It's a..." Fans were instructed to click to the next picture to see the rest of the statement.
The second picture was a full-color picture showing the pair in the same position surrounded by pink balloons and the sign read: "It's a girl!"
Now fans are eagerly waiting for the arrival of the little girl. Lauren is due in the fall of this year.
Please fill in your e-mail so we can share with you our top stories!