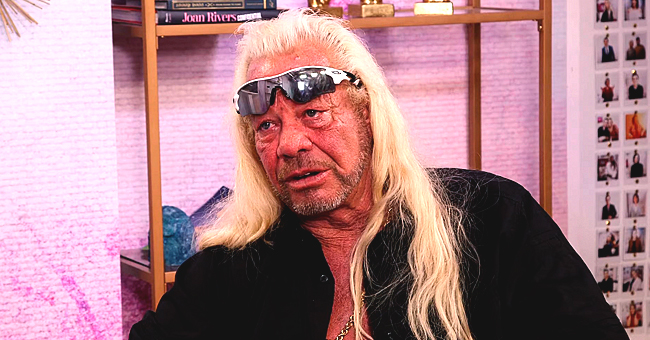 Youtube.com/InTouch Weekly
How 'Dog the Bounty Hunter' Almost Fell for $430K Dubai Scam after Beth Chapman Died from Cancer
'Dog the Bounty Hunter' star, Duane 'Dog' Chapman avoids falling for a $430 000 scam.
Less than a month after losing his wife, Beth Chapman to stage two throat cancer, Duane 'Dog' Chapman was targeted in a money scam. According to The Sun, the Dubai-based money scammers target celebrities.
It is reported, the scammers contacted Chapman's literary agent, Alan Nevis. They sent him an email posing as representatives from the office of the Deputy Prime Minister for the United Arab Emirates, Sheikh Mansour bin Zayed Al Nahyan.
In the email, Chapman was offered the opportunity the speak at an economic empowerment convention for small business owners. A contract for $430 000 was sent to his team, setting the date for August 31.
TMZ reported that everything appeared legitimate including the contract and the events website.
Chapman and his team began to feel suspicious when the organizers for the supposed event only communicated via email. Citing the time difference as the reason for not having telephonic communication, things only started to more suspicious.
Their suspicions were finally realized when the event organizers reached out to Nevis informing him that they were having difficulty completing the wire transfer. The organizers suggested that Chapman donate $250 000 to the organization.
The organizers sent Chapman a real check and after doing some research Nevis discovered that the company that supposedly issued the check were not aware of the event. The hotel stated in the contract was also not aware of the organization.
Speaking to Page Six about the whole ordeal, Chapman says:
"Then I started noticing anyone that had been through a traumatic experience was bait. You know, like, loss of a loved one, a very bad illness, stuff like that. These predators were picking on someone who was not in their right mind."
With his show coming up on September 3, the bounty hunter's instincts must have kicked in to reveal all the red flags uncovered in the scam.
These type of scammers are virtually impossible to track. Fortunately, Chapman, did not send any money to the organization. Many unnamed celebrities have been targeted and some have lost tens of thousands of dollars to the scam.
Please fill in your e-mail so we can share with you our top stories!