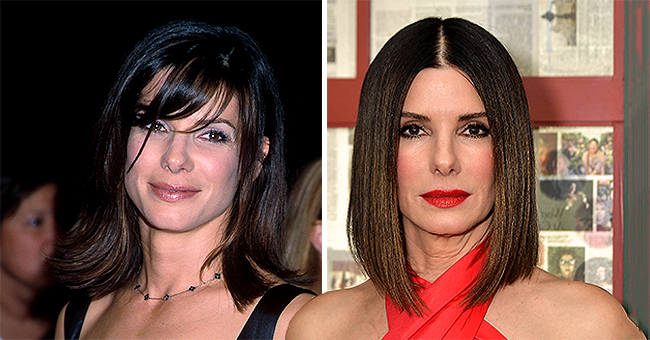 GettyImages
Sandra Bullock's Stunning Style Transformation through the Years
Sandra Bullock transformed from being a girl from West Virginia to one of the greatest style icons in Hollywood. From bangs to daring wavy hair, the actress has done it all and stunned majorly every step of the way.
Sandra Bullock got introduced to the world after she had the breakout role in "Speed" opposite the actor, Keanu Reeves. In the movie, she sported a short crop hair, and her clean face held the promise of greater things to come.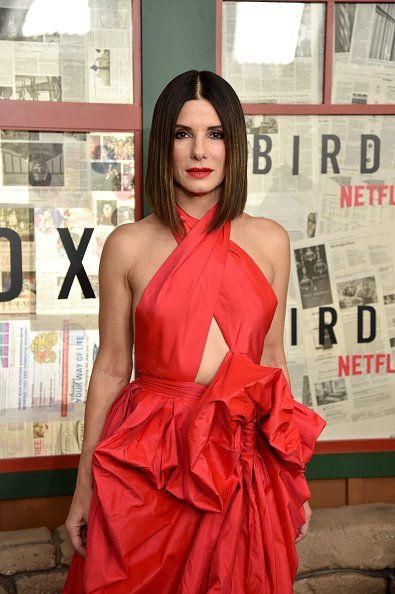 Sandra Bullock attends the New York special screening of The Netflix Film "BIRD BOX" at Alice Tully Hall on December 17, 2018 in New York City | Photo: Getty Images
As an actress, Bullock has done it all, with a Golden Globes and Academy Awards to her credit. In 2015, People named her the "World's Most Beautiful Woman," and it's a title well deserved.
The actress has come a long way from being the girl from West Virginia, and through the years of front bangs, cheerleading outfits to designer looks on the red carpet, she has cemented her place as a style icon to look up to.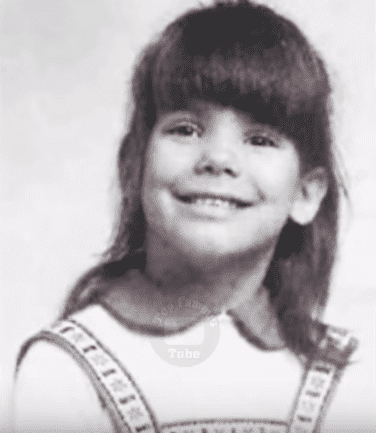 "Oceans Eight" actress, Sandra Bullock when she was only a young girl | Photo: YouTube/ Top Famous Tube
Here are some of Bullock's stunning style transformation through the years:
I979: Raven Haired Beauty
In her freshman photo for Washington Lee High School, Arlington, the actress stunned as a raven-haired beauty with a center part hairstyle. She rocked a white high-neck cotton outfit and a very stern look.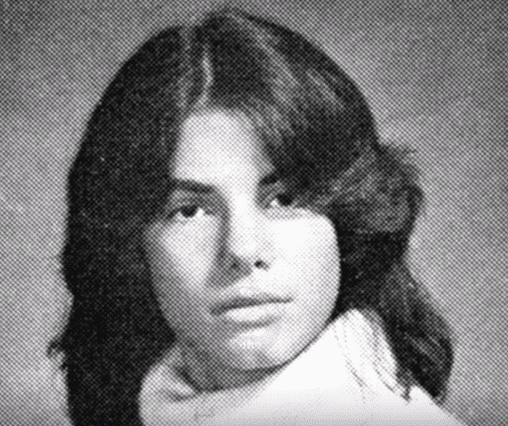 Sandra Bullock in her freshman yearbook photo at Washington-Lee High School in Arlington | Photo: YouTube/ Top Famous Tube
1982: Cute In Pigtails
In a photo from her senior year in high school, Bullock wore a cute pigtail and charming smile. She was dressed in her cheerleading outfit, and also sported bangs.
1995: Revealing Her Girly Side
By this time, the "Speed" star had gained some popularity in Hollywood, and it was time for her girly side to come out to play. In the words of Pamela Westmore, it was the "Beginning" of Bullock's transformation, and the girly curls and red lips said it all.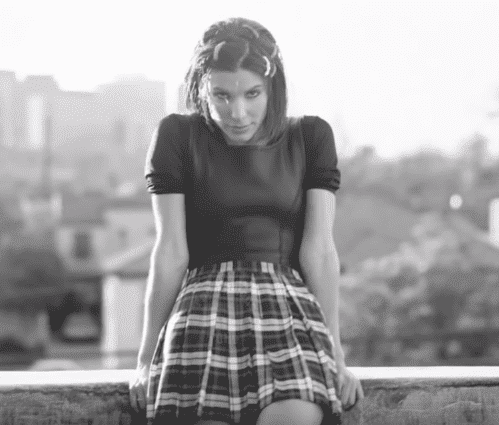 Young Sandra Bullock in pigtails during her high school days | Photo: YouTube/ Top Famous Tube
1997: Highlights
Sandra Bullock decided to try something different for her appearance at the Blockbuster Entertainment Award. She added a few gold highlights to her hair, and equally rocked a lavender eye shadow and dark lips.
1998: Making A Statement
Bullock made her first fashion statement in '98 at the premiere of the movie, "Hope Floats." The actress wore a purple translucent jacket over a matching dress and strappy heels. She sported bangs, frosty eyeshadow, and bright lilac lipstick.
2000: Long Bangs
The actress wore a sexy see-through dress with a nude-colored slip underneath it, to the "Miss Congeniality" premiere in Hollywood. She sported long side bangs which framed her face and a cute updo.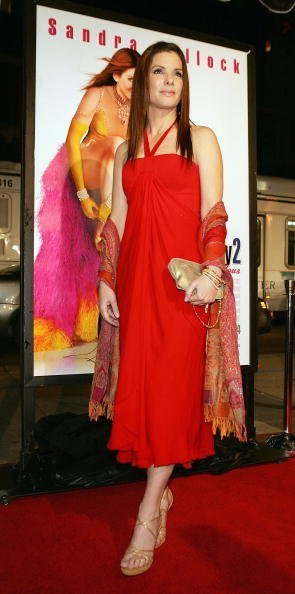 Actress Sandra Bullock arrives at the premiere of Warner Bros.' "Miss Congeniality 2: Armed and Fabulous" | Photo: Getty Images
2003: The Power Pony
At the BAFTA Awards that year, Bullock showed she was coming into her style and testing boundaries. She stunned in a "Power pony," smoky eyes and nude lips.
2004: Making A Statement At the Oscars
At the 2004 Oscars, the mum-of-two took her style statement further by walking the red carpet in an intricate white gown. She radiated in it and had her hair in pin curls with a side part.
2006: Caramel Bob
That year, Bullock rocked a caramel bob, to the SAG Awards with a deep part. She looked chic in it, and went home with an award for Outstanding Performance for a Cast in a Motion Picture for the movie, "Crash."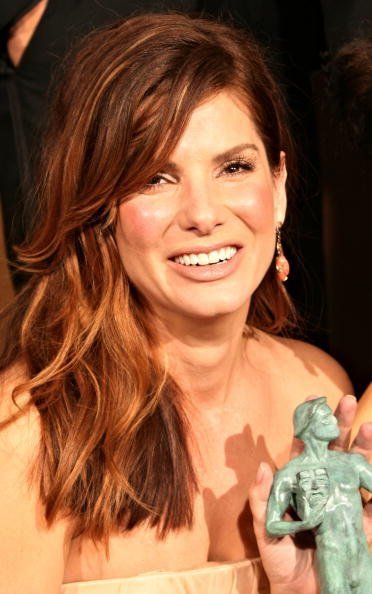 Sandra Bullock of "Crash" with the award for Outstanding Cast of a Motion Picture poses in the press room during the 12th Annual Screen Actors Guild Awards | Photo: Getty Images
2009: Cover Girl
The "Crash" star looked beautiful on the cover of InStyle Magazine. So far, she has appeared on the cover six times, the first time being in '96.
2010: Queen of the Oscars
Bullock pulled all the stops for her look to the Oscars, which was simply divine. She wore an off-white gown with embellishments and wore her hair straight with a side part. The red lips also came back, and it was divine.
2013: Bold and Wavy
The "The Proposal" star went for a bold look to the People's Choice Awards. She sported loose, wavy hair, soft blush, and bright pink lips.
Sandra Bullock participates at the 39th Annual People's Choice Awards - Press Room held at Nokia Theater L.A. Live on January 9, 2013
2015: Long and Sleek
The actress donned a long and sleek hair at the London premiere of "Minions," and that same year, she debuted gorgeous brown curls, smoky eyes, and beautiful black patterned dress at the Women in Film Crystal and Lucy Awards.
2018: Beautiful in Gold
In June, Bullock wore a stylish gold sequined gown to the premiere of "Ocean's 8." It was one of the best looks she's rocked in her career, and she sported pale pink lips. Later that year, in November, she debuted short hair at the "Bird Box" premiere and looked divine in a black dress with gold and orange stripes in the middle.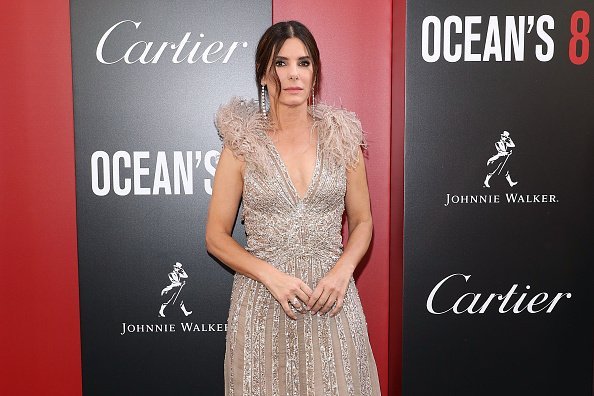 Sandra Bullock attends the world premiere of "Ocean's 8" at Alice Tully Hall at Lincoln Center on June 5, 2018 in New York City | Photo: Getty Images
2019: The Style Icon Continues to Please
At the MTV Movie and TV Award, in June, Bullock showed she is still a style icon to be reckoned with in a fuchsia sequin jumpsuit. She parted her long hair in the middle and stunned with smoky eyes.
Please fill in your e-mail so we can share with you our top stories!