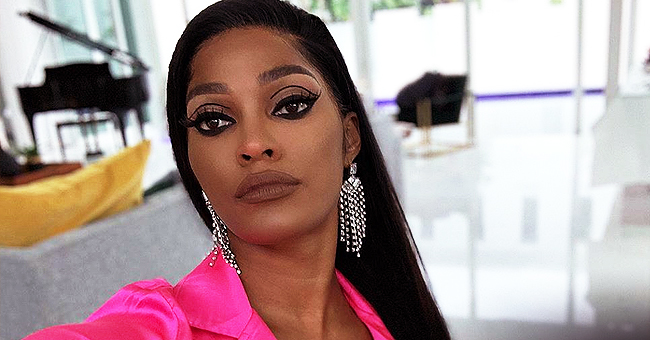 Instagram/joseline
Joseline Hernandez Shares Adorable Clip of Daughter Bonnie Playing with Stevie J's Son

Onscreen diva, Joseline Hernandez got applauded for posting a bonding video between her daughter Bonnie's older half-brother, Stevie Jr.
The mother of little Bonnie Bella uploaded a 60seconds clip on her Instagram. It featured her toddler daughter, being held firmly by her big bro as they exchanged dialogue.
The duo got engaged in a cookie argument. Joseline's baby girl first informed her audience that she had a cookie in her hand.
Bonnie then gave the cookie to Stevie who ate it. The puzzled little princess asked for her cookie saying "no, Give me back my cookie." However, big brother calmly explained that it had gone to a faraway land and wasn't coming back!
Bonnie's mama got different comments on her upload. While most admired the celebrity mom's gesture, and commented with lovestruck emojis, others joked about the young chap's response to her lost cookie.
A fan wrote,
"I smell maturity on Joseline. I'm so proud of you boo. Show em, grown woman-ish."
One fan commented,
"I thought Bonnie was going to slap him."
Another wrote,
"I'm so proud of you, boo. Show em grown woman-ish."
Although she is no longer married to her daughter's father, Stevie Jordan, Mama Bonnie constantly shows tolerance, in her posts. Recently she shared how friendly her relationship with her ex-husband is. The pair are so cordial that they feature each other's partners at various events.
The onscreen diva posted a photo featuring herself, her daughter, her man, Bonnie's dad and his lover, in the course of an outing.
While Stevie Jordan and his beau, Faith Evans grinned cheerfully, showing their support for Joseline. DJ Ballistic, the superstar's lover, looked happy and proud of his woman.
The photo's caption revealed that Stevie Jordan's ex was excited about the presence of every individual in that picture. It read:
"Amazing show tonight #FaithEvans #Stevie J #goodvibes #philly."
This is an impressive turn-around, as both parents have come under the reeks of critics, as well as stirred up some drama over the custody of their child, in time past.
It appears that not only has Joseline accommodated her ex's wife, but she has allowed her daughter to have a cordial relationship with Stevie J's son, Stevie Jordan Junior!
Apart from getting her daughter familiar with her sibling, the toddler's mom is nothing but proud of little Bonnie. She stops at nothing to flaunt her on social media.
Joseline posted how much education her baby is getting from school, and how fast she's grasping onto knowledge. Bonnie can identify colours, and mama doesn't intend to hide it.
Her post read:
"How many colours #rubikscube #bonniebella School flow!"
The celebrity mom is just the best mother to her kid, and it's commendable.
Please fill in your e-mail so we can share with you our top stories!