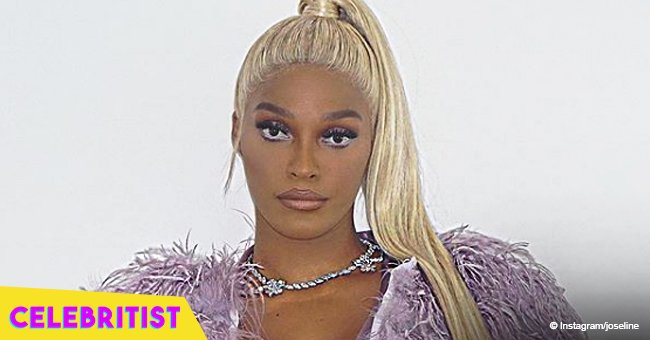 Joseline Hernandez steals hearts with picture of daughter rocking polka-dot dress and hair bow
Joseline Hernandez' Instagram account is the perfect mix between sexy photos of herself and adorable pics of her daughter Bonnie Bella. The girl looks stylish in a recent pic shared by Hernandez, after she slammed her baby daddy Stevie J for not visiting Bonnie in months.
The former "Love & Hip Hop: Atlanta" star knows how to keep all her Instagram followers happy, finding the perfect balance between pictures of her that leave nothing to the imagination, and adorable photos of her 1-year-old daughter showing off her cutest looks.
Bonnie Bella, like her parents, seems to have developed a love for the camera lens already. The little girl is often posing for her mom like a little fashionista, and even though she always gets trolls and haters trying to put her down, Joseline stays unbothered as she keeps on gushing about her girl.
In a recent pic posted to Instagram, Bonnie Bella stole the show wearing an adorable white and blue ensemble. She wore a blue polka-dot dress with a stylish white jacket featuring a huge flower pin, white socks, blue shoes and a blue bow to keep her curls in place.
"Future Russian spy," Joseline captioned the picture.
Fans took to her comment section to share their thoughts on the photo. "Love the way you dress bon bon like little girls suppose to look and love her hair the natural look she looks so soft and classy…" wrote one user. Another added, "Joseline you dress Bella like a princess. She is beautiful GOD bless her."
While people if often slamming Joseline for showing too much skin even after becoming a mom, the reality star has made sure to let people know that her outfit choices have nothing to do with her motherhood skills, as she keeps it cute when it comes to her girl's clothes.
Hernandez recently revealed on Bossip TV that she's raising Bonnie Bella alone, since Stevie J, her baby daddy, and ex-boyfriend, has been lacking on his duties as a father for the last five months.
"I gave my daughter my last name because sadly the last name she should of had by blood wasn't around to help her," said the Puerto Rican Princess.
Not only did Stevie J fail to pay child support, but he hasn't visited his daughter either.
According to TMZ, both exes share physical custody of the 1-year-old, but Joseline has primary care. Stevie is set to pay $1,000 a month in child support, and they agreed that when the girl is with either of them, they can't have overnight or intimate visits.
Please fill in your e-mail so we can share with you our top stories!