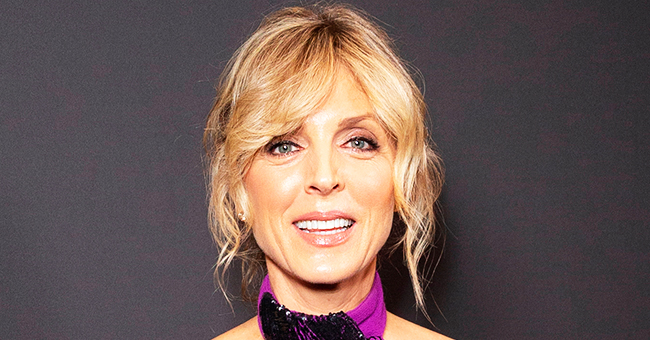 Shutterstock.com
Tiffany Trump Celebrates Boyfriend Michael Boulos' B-Day as President's PA Fired from White House
Amidst reports of President Trump firing his assistant for her "unbridled" tongue, his daughter Tiffany celebrates her boyfriend, Michael Boulos' 22nd birthday.
Marla Maples, who is best known for being President Trump's ex-wife, took to Instagram to share photos from the joyous event. There are a total of three pictures, each featuring Marla, Tiffany, Michael and his mother, Sarah.
Marla and Sarah looked very happy as they enjoyed the intimate moment with their grown children. In the first picture, Tiffany and Michael sat for photos with their mothers hovering behind them. Tiffany rocked a floor-length dress that sported a very low neckline.
The youngster looked very mature and excited as she sat right by the birthday boy. Michael kept things simple, wearing a black shirt and jeans. The full picture of the outfits worn by the group can be seen in the last photo and shows that Marla wore a gown very much like her daughter's.
The second picture captures a tender moment between Marla, Sarah, and their children. Marla seems to like this picture the most as she shared that kissing their children at the same time as they did was not planned.
"Proud & happy momma's celebrating Michael's 22 this week," she started.
"I actually slowed down the Live photo on the 2nd shot and saw that both Sarah and I were kissing and blessing our sweet kiddos at the exact same moment. I think I found my twin #prayingmom."
Her words are pregnant with meaning as she hints at her approval for Michael and Tiffany's relationship. As if to prove this, she finished the caption writing:
"I love watching God in action and so grateful when the Divine brings beautiful souls together from across the sea to share our hearts, life stories & fun! #livetolove #mmmoments #momanddaughter."
The news of Tiffany and Marla's night out celebrating Michael comes soon after Madeleine Westerhout, President Trump's personal assistant was allegedly forced to resign. That was after she shared rather intimate details about the First family.
It is good to see that Marla and Tiffany aren't taking the news hard, considering that Tiffany was a significant part of Westerhout's revelation. Trump, on the other hand, responded by taking to Twitter to share that he has "forgiven" Westerhout and that he loves Tiffany.
Tiffany and Michael were first seen out in public for the first time in September, 2018. Months later, the first daughter introduced her boyfriend to her family during a Thanksgiving dinner and the rest is history. The fine couple have been together ever since and are less shy to be caught together in public.
Please fill in your e-mail so we can share with you our top stories!