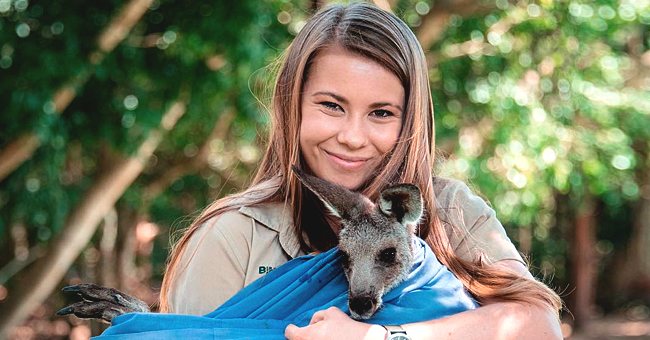 instagram.com/bindisueirwin
'Crocodile Hunter' Star Steve Irwin's Daughter Bindi's Video Tribute on Father's Day in Australia
In honor of Australia's father's day, Bindi Irwin shares family footage of herself with her parents, Steve Irwin and Terri Irwin.
On 1 September 2019, Bindi Irwin celebrated father's day with a video montage for her late father; conservationist and reality television star, Steve Irwin. In a nostalgic post, she writes:
"It's Father's Day here in Australia. Reflecting on these wonderful moments. Hug the people in your life who bring light to your heart and always remember that love lasts forever."
In a video montage, Bindi shares family footage with her parents Terri Irwin and Steve Irwin strolling through the Australian outback.
Irwin playfully wrestles a stuffed snake and stuffed crocodile to a giggling Bindi. The father of two displays his skills as he shows an infant Bindi and Terri how to trap an animal, saying:
"And it gets daddy…You get the snake" Putting the snake down he wrestles with a stuffed crocodile saying, "and then daddy grabs the crocodile and puts the tail in between my legs, and I hang him like this, he's biting my arm, but I got him off."
In 2006, Steve died tragically while filming "Ocean's Deadliest." The Animal Planet and Discovery Channel documentary was shot on the coast of Queensland, at Bait Reef. Speaking on the incident, his cameraman, Justin Lyons recalls:
"I panned with the camera as the stingray swam away and I didn't know it had caused any damage. It was only when I panned the camera back that I saw Steve standing in a huge pool of blood that I realised something had gone wrong."
Steve was buried at the Australian Zoo in Landsborough, Australia. Bindi has always been open about the difficulty she has faced while grieving for her father. In a candid interview with Stellar she says:
"Some days you feel the grief more than others. What gets to me are those moments when I'd love him to be here to share what we're doing."
Father's day is always bitter-sweet for Bindi, but this year she has s reason to celebrate. The reality star recently got engaged to her boyfriend of six years. Her brother Robert Irwin, will walk her down the aisle.
Sharing some of the qualities she enjoys Chandler Powell, she mentions that he is similar to her iconic father, saying:
"He loves wildlife and conservation and he has this strength."
Named after her father's famous catchphrase, "Crikey," Bindi, Terri and Robert are the stars of "Crikey! It's the Irwins."
Please fill in your e-mail so we can share with you our top stories!