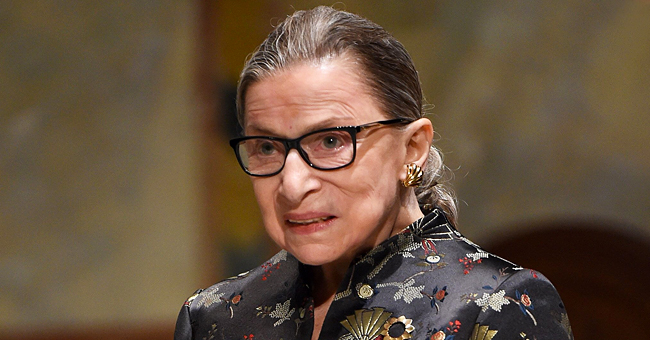 Getty Images.
Ruth Bader Ginsburg Is a Mother of Two Children - Meet Both of Them
As Associate Justice of the U.S. Supreme Court, Ruth Bader Ginsburg has quite the story to tell. Not surprisingly, Ruth's personal life followed a similar path interweaved with her career having married the distinguished tax lawyer, Martin David Ginsburg and having children.
By the time Martin passed away on June 27, 2010, he had become a specialist in tax law who taught the subject at Georgetown University Law Center in Washington, D.C., while he also served as counsel to the American law firm, Fried, Frank, Harris, Shriver & Jacobson.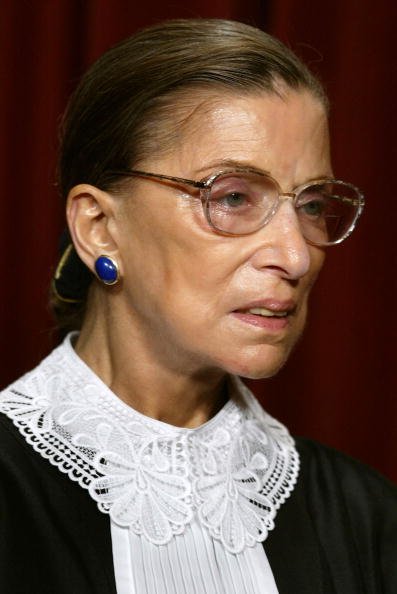 Justice Ruth Bader Ginsburg poses for photographers at the U.S. Supreme Court October 31, 200,5 in Washington DC. | Source: Getty Images.
THE LOVE STORY OF RUTH AND MARTIN
But Ruth and Martin's history went back to their time as undergraduates at Cornell University in the 1950s when they first met. Martin's roommate had set him up with Ruth on a blind date, and he found her "awfully cute."
Soon Martin realized his cute date also has a sharp intellect while Ruth appreciated dating a man that valued an intelligent woman.
After graduating from Cornell University, Martin and Ruth got married in 1954, followed by a move to Fort Sill, Oklahoma so that Martin could finish his ROTC assignment.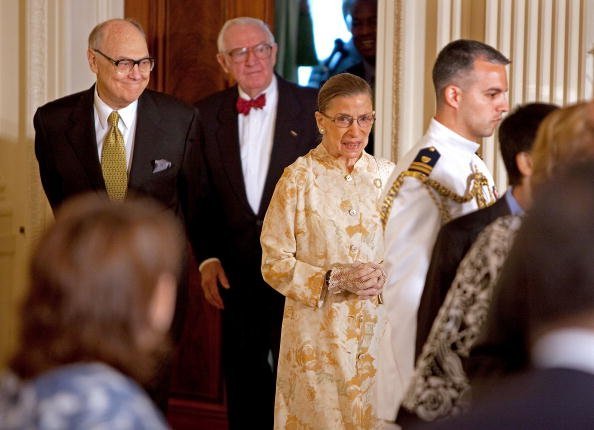 U.S. Supreme Court Associate Justice Ruth Bader Ginsburg (C) with Associate Justice John Paul Stevens (2nd L) during a reception for new Supreme Court Associate Justice Sonia Sotomayor in the East Room of the White House August 12, 2009, in Washington, DC. | Source: Getty Images.
During a speech in 1996, Martin joked about an important part of their life together he came to understand early on in his marriage to Ruth.
"I learned very early on in our marriage that Ruth was a fairly terrible cook and, for lack of interest, unlikely to improve," Martin said. "I decided I had better learn to cook because Ruth, to quote her precisely, was expelled from the kitchen by her food-loving children nearly a quarter-century ago."
EARLY CAREER CHALLENGES
Ruth's inability to cook paled in comparison to what she achieved during those early days. The couple welcomed their first child and daughter, Jane in 1955. The following year Ruth became one of nine female students to attend Harvard Law School.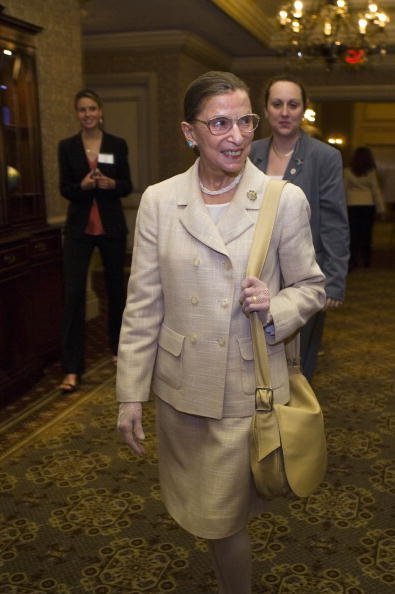 U.S. Supreme Court Justice Ruth Bader Ginsburg arrives for a dinner to honor Michelle Bachelet, Chile's first female president May 8, 2006, in Washington, DC. | Source: Getty Images.
While juggling family life and the demands of law school had its challenges, Ruth credited Jane for helping her stay focused on her studies. "I think I had better balance, a better sense of proportions of what matters," she said. "I felt each part of my life gave me respite from the other."
She excelled and served on the Harvard Law Review just as her mother had and made waves with her ground-breaking argument against gender discrimination in 1972.
Both Ruth and Martin aspired in excelling in their chosen fields. Martin wanted to become a partner in a New York law firm within five years, while the importance of Ruth's ACLU Women's Rights Project also became evident.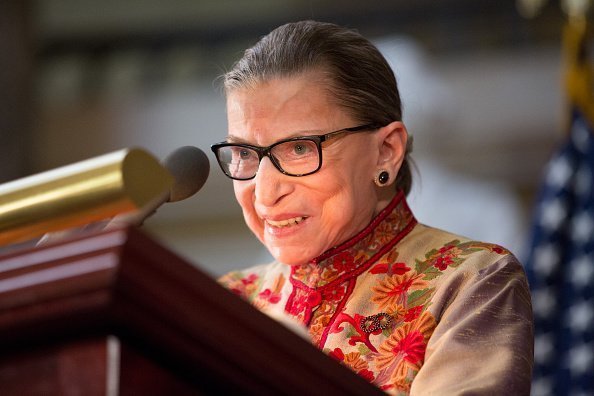 U.S. Supreme Court Justice Ruth Bader Ginsburg speaks at an annual Women's History Month reception hosted by Pelosi in the U.S. capitol building on Capitol Hill in Washington, D.C. | Source: Getty Images.
Realizing that both had important work to do, they learned to accommodate the needs of the other throughout the marriage. In 1980 the couple moved again, but this time after Ruth got nominated to the D.C. Federal Court of Appeals for the District of Columbia.
By then Ruth had already given birth to her second child and son, James in 1965, ten years his sister Jane's junior.
JANE C. GINSBURG
Jane's life strongly resembles that of her mother. As an expert in copyright law and a professor at Columbia Law School, Jane also directs Kernochan Center of Law, Media, and the Arts in Columbia. Also married to a lawyer, Jane's husband, George T. Spera works at the law firm Shearman & Sterling in New York.
Adding another generation of law enforcers to the family, Jane's daughter, Clara Spera graduated from Harvard Law School in 2017. She started clerking for a federal judge and got married to Rory Boyd, a Scottish actor.
Jane also has a son, Paul Spera who became an actor and married the actress, Francesca Sarah Toich. With the birth of their daughter, Ruth became a great-grandmother for the first time.
JAMES STEVEN GINSBURG
Unlike his sister Jane and their parents, James opted for a career that had nothing to do with the law, even though he attended law school.
With a passion for music, James became a record label executive and shared his mother's love for opera. While in his first year of law school in 1989, James founded the classical music label, Cedille Records and got named Chicagoan of the Year courtesy of the Chicago Tribune in 2009 for his contribution to boosting local talent.
James' love for all things classical led to his marriage to the composer and soprano, Patrice Michaels, and the production of the 2018 opera album, RBG in Song, wherein Patrice tells Ruth Bader Ginsburg's life story.
Ruth served the U.S. Court of Appeals until President Bill Clinton appointed her to the U.S. Supreme Court in 1993. As Justice Byron White's replacement, President Clinton valued Ruth's ability to deal with the more conservative members of the Court.
For Ruth's contributions to gender equality and civil rights, she won the American Bar Association's Thurgood Marshall Award in 1999.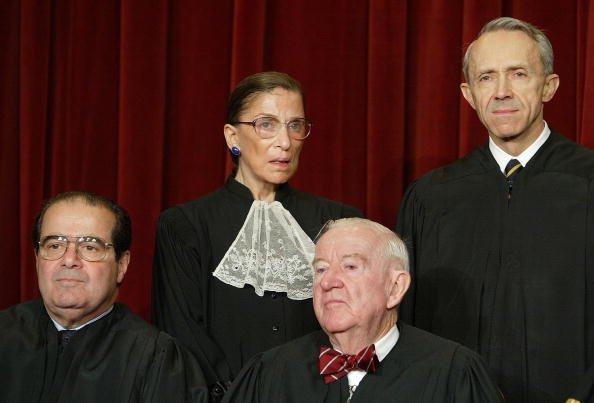 US Supreme Court Justices (L-R, Seated) Associate Justice Antonin Scalia and Associate Justice John Paul Stevens, (L-R, Standing) Associate Justice Ruth Bader Ginsburg and Associate Justice David H. Souter pose for pictures at the US Supreme Court December 5, 2003, in Washington, DC. | Source: Getty Images.
Her marriage to Martin came to an end when he died from cancer on June 27, 2010. Before his passing, Martin gave a simple reason for his happy marriage to Ruth that lasted over five decades.
Not the usual couple, Ruth became known for her shy, serious, and soft-spoken nature while Martin loved being around people and entertaining.
"My wife doesn't give me any advice about cooking, and I don't give her any advice about the law," Martin stated as the reason for their lasting marriage.
Ruth suffered a major health setback when she got diagnosed with colon cancer, which she managed to beat in 1999. In the fall of 2018. doctors discovered cancerous modules on her lung. However, after treatment, there seems to be no evidence of the returned cancer.
Please fill in your e-mail so we can share with you our top stories!