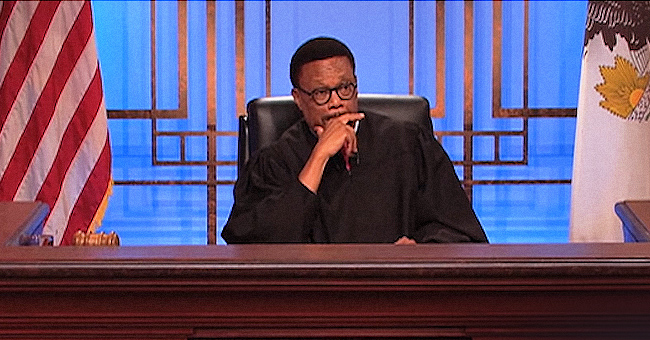 Youtube/Judge Mathis
Judge Mathis' Alleged Spitting Attack on Detroit Valet Driver Caught on Camera

Video of Judge Mathis having a heated argument with a parking valet surfaces following the judge's denial that the confrontation occurred.
On Friday, the 23rd of August, Judge Greg Mathis, the star of "Judge Mathis," had gone out for a good time and food at the Flood's Bar and Grille in Detroit, Michigan. But according to PEOPLE, things quickly turned sour for the judge as he got into a fit with a valet.
According to the report, when the retired Michigan 36th District Court judge finished his dinner, he went to retrieve his valet-parked Rolls-Royce.
To the judge's dismay, one of the valets had taken the keys to the Rolls-Royce away while he went about retrieving another person's car. Thus making Mathis wait 10 to 15 minutes.
The long wait allegedly infuriated Mathis who loudly yelled at the valet as soon as he made an appearance. But it didn't end there as PEOPLE reports that the judge only got more upset when the valet tried explaining that the other car he had gone to retrieve was parked further down.
The valet had also apologized for keeping the judge waiting, but this did nothing to diffuse the situation as Mathis allegedly spat at the valet before driving off.
Since the allegations surfaced, Mathis has continuously denied the claims and even went as far as making an appearance on TMZ to clear his name. While 59-year-old Mathis agrees that he argued with the valet, he denies spitting on him. But now, security footage of the incident has surfaced online.
In the footage, the visibly angry TV judge is seen walking towards the vehicle while the valet was sitting inside. He then leans in to talk to the valet, but after only a couple of seconds, he thrusts his head into the car. This is when the valet reports that the TV judge spat at him.
The valet isn't taking any of this lying down as he has filed a Police report accusing the judge of assault. He is also ready to submit his shirt for a DNA test to prove that his accusations are true. But the judge isn't bothered by all these allegations.
JUDGE MATHIS DISMISSED THE ACCUSATION EARLIER
If you recall, Mathis had earlier dismissed the accusations and called them a "money grab" according to TheGrio. According to him,
"I don't know if this is a money grab, which I suspect it is. People get accused all the time, and it's not true."
Be that as it may, the police are currently investigating the alleged assault and will have the truth for interested parties soon enough.
Please fill in your e-mail so we can share with you our top stories!