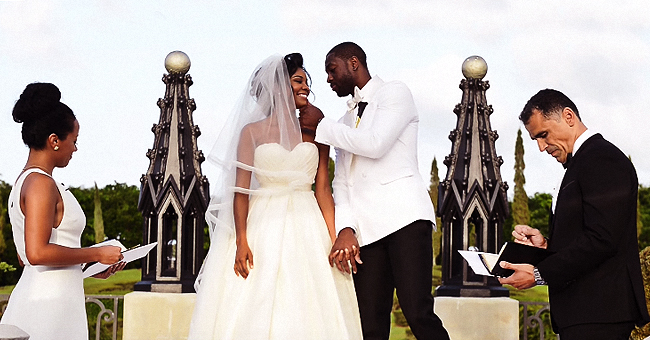 Youtube/Suzanne Delawar
See How AGT Judge Gabrielle Union & Retired NBA Legend Dwyane Wade Marked 5th Wedding Anniversary

It was a lovely time for the Wades as the couple went all the way to celebrate their 5th wedding anniversary in the French Riviera.
Just three days ago, Gabrielle Union shared a stunning and hilarious video of herself and her lover on their wedding day five years ago, August 30, 2014.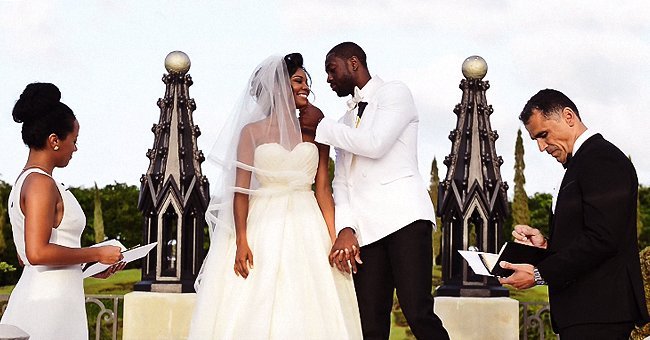 Actress Gabrielle Union married her best friend, Dwyane Wade on August 30, 2014 | Photo: Youtube/Suzanne Delawar
She added as a caption to the video,
"I had THE best time at our wedding, and I've been smiling ever since. To see this video & so many of our loved ones & all the fun we had…. Man, we partied till the sun came down. 8-30-2014.If you were there, tell me the tale in the comments."
There were, of course, lovely responses from their friends and fans on Instagram. @Essence_says commented,
"Happy Anniversary, my friend! Thank you for giving us an example of a love that is aspirational and tangibly real! Congratulations!!! "Have fun storming the castle ~ Princess Bride."
Dwayne was also super excited as he revealed on his Instagram page how bright and splendid the last five years have been.
"The first rounds were light bring on the next 5!! Happy 5th Anniversary @gabunion."
To mark the occasion, the lovely couple graced the French Riviera on a yacht, celebrating in style and keeping fans in the loop with adorable photos.
Dwayne took to his Instagram page, to boast of his photography skills, saying that he was responsible for shooting most of his wives stunning pictures. He added,
"Fellas this is the new age reason for getting married. So women can have an ALL TIME photographer, #MYLIFEHERWAY."
The actress, best known for her role in "Being Mary Jane," got married to former Miami basketball player, Dwayne Wade in Miami. The couple met at a Super Bowl party in 2006, but both decided to take things slow. The decision to take things slow was due to their previous failed marriages.
The couple later split briefly, and according to Union it was due to distance, she was moving from one set to the other and missed out on very important moments.
But when they finally got back, Dywane wasted no time, he proposed to her in the sweetest way ever! In an interview with Good Morning America, Gabrielle describes the proposal,
"we were spending what I thought to be a fun day with the kids, having a little quality time. We went to brunch, and we went to tour our house, which is being constructed. It's a construction site."
She went on to say that the boys excused themselves after announcing they had a presentation, next thing she is turning around, and she sees the boys carrying signs that read "Will you marry us?"
Initially, she thought it was a joke, as the boys always talked about the two getting married, she turned to look at Dwayne, and he was on one knee, with a ring, and he said,
"Will you marry us?" And she said "Oh this is serious! This is a thing! Yes! Of course Yes!"
This would not be the first time the power couple would celebrate their union, and the actress went big for their fourth anniversary. Last year, she posted on Twitter, video clips of their wedding, celebrating her four years of marriage.
She captions the tweet,
"4 years later, still my best friend. Happy Anniversary baby @DwyaneWade."
Their love story did not happen overnight, in an interview, Union said,
"When I met Dwayne, his resume looked like crap: athlete, going through a divorce, nine years younger than me, none of that screamed, 'let's have a lasting relationship.'"
But she gave it a try, and five years later, they are still kicking it. Just before the birth of their child, Kaavia James in 2018, Union told The Oprah Magazine how they suffered eight miscarriages.
Their bundle of joy came in last year through a surrogate, and the couple worships her. The seemingly impossible love affair between the couple has now become a fairy tale story, with a happy ending.
Please fill in your e-mail so we can share with you our top stories!