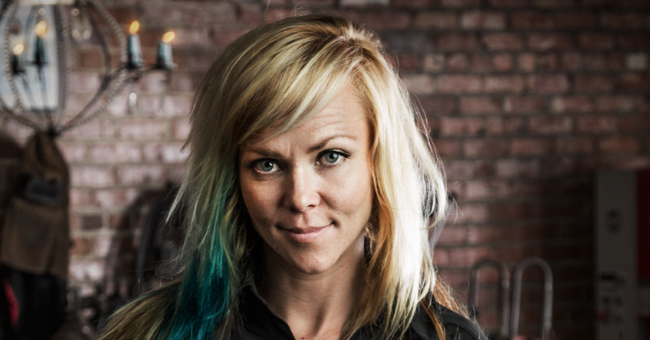 instagram.com/thejessicombs
Jessi Combs' Boyfriend Terry Madden Honors His 'MythBusters' Lady in Tribute Pics after Fatal Crash
Jessi Combs' boyfriend, Terry Madden has chosen to air his grief by sharing heartfelt tributes for the late racer with the general public everyday.
Terry Madden was at the scene of Jessi's auto crash. Terry is also a racer like Jessi and shared that at the time of her death, they had tried everything "humanly possible" to save her life.
Although the accident happened on the 27th, about one week ago, Terry is still grieving. Just a day ago, the handsome athlete shared that he has decided to post numerous pictures to honour Jessi's memory.
"Not sure how to cope. I miss my @thejessicombs so bad... It's a constant for me to be in our favourites file on my phone looking at our pictures... I decided this morning to start sharing the stories that go with these every morning," he wrote on Instagram.
The very first is a picture of himself and the gorgeous athlete. As he revealed in his caption, the photo was taken during Halloween. It features the couple wearing costumes, but because the picture is a selfie, the complete ensemble isn't seen.
It is, however, evident that Jessi dressed as a clown and a rather gorgeous one too. Terry's lengthy message got viewers emotional as he fondly recalled the day the picture was taken.
He shared that the snap was taken during last year's Halloween and described it as "the single greatest night of my life." For Terry, it was a very joyous day and even without taking a pint of alcohol, they had more fun than they thought was possible.
"Didn't drink a drop and on the greatest pure happiness high ever, we laughed we loved, and we never said a word," he explained.
Terry kept true to his words by sharing another and just a few hours old, the post has already gained attention online.
"This might undoubtedly be the moment I realized that @thejessicombs was perfect for me!" he shared.
Although very little is known about Terry and Jessi's relationship, it is clear that Jessi played a significant part in Terry's life.
Popculture reports that just a few days before her demise, Jessi had helped Terry and his estranged son reunite. Jessi was a beautiful person in and out. May her soul rest in peace.
Please fill in your e-mail so we can share with you our top stories!