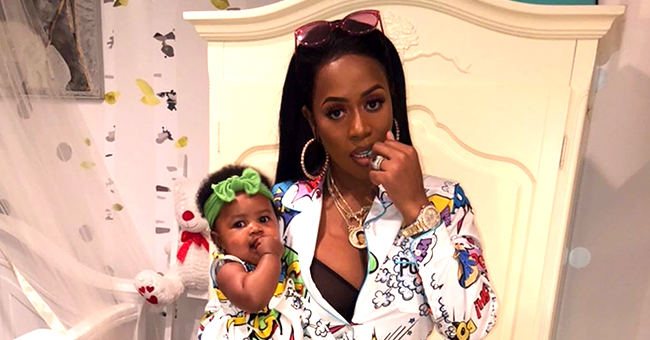 Instagram/remyma
Rapper Remy Ma Styles 'Golden Child' Reminisce's Hair with Ribbons & Gives Baby Hair Growth Advice
Remy Ma warns mothers about the dangers of head accessories as she shares a clip of her nine-month-old daughter's new hairstyle. "Be careful," she writes.
In every photo of Remy Ma's daughter, Reminisce, we see the baby rocking a headband or some form of accessory on her hair.
And while she looks really cute in them, Remy has a warning for other mothers like her who frequently style their children's hair.
In new photos of Reminisce, the little girl's head is adorned with giant ribbons and her hair is twisted in tiny tendrils that are set together by little bands. No doubt, she's a head-turner with her latest do but Remy is quick to advise that it may be cause for hair loss.
Remy shares that Reminisce was well-behaved when she decided to try out the new do. But in the same breath, she also explains the dangers of using hats and headbands on babies.
"Mommys be careful- I know that babies normally have hair loss around this age but I think the hats & headbands make the baby's hair come out more," she warns. "Even if they don't wear them that much," the 39-year-old hands-on-mom adds.
Remy must be enjoying her daughter even more lately now that she's officially off probation. In August, she was finally released from the ankle bracelet that allowed authorities to track her while she was on parole.
Remy went to prison for her involvement in a 2007 Manhattan shooting. She served six years behind bars until her release in 2014 when she began her probation.
Five years down the line, she's now a free woman, yet still faces new charges filed against her by Brittney Taylor. Taylor accused Remy of punching her at a bar earlier this year but Remy is confident she has an alibi that will absolve her from the misdemeanor assault she was charged with.
Meanwhile, it's refreshing to see Remy sans her ankle bracelet as she enjoys the perks of motherhood in caring for her daughter along with her husband, Papoose.
Please fill in your e-mail so we can share with you our top stories!