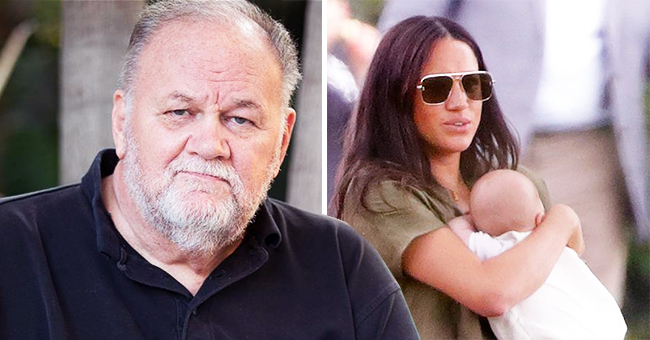 twitter.com/bekiaes / Getty Images
Meghan Markle's Estranged Father Thomas Disappointed He's Not yet Met Royal Grandson Archie
Meghan Markle's estranged father, Thomas Markle, lamented that he hasn't met his grandson yet in a new interview. He has been vocal about his efforts to reconnect with Meghan ever since he missed her wedding with Prince Harry in 2018.
Thomas Markle is continuing the press talks about how he wants to reconnect with his daughter Meghan. The rift between the father and the daughter is far from over with the royal family refusing to connect with Thomas.
In an interview with Dailymail, Thomas opened up about how he was aching to meet his grandson, Archie.
"I'd love to know if he's got the famous Markle nose."
THOMAS WANTS TO "FRAME ARCHIE'S PICTURE"
Thomas decided to speak out for the first time since Archie's birth because he feels like he is unfairly denied the chance to see his grandson.
"I would like them to send me a picture of Archie so I can frame it and put it on my wall beside the one of Meghan. Isn't that what any grandfather would want?," he said.
According to the outlet, Thomas' Rosarito home is filled with pictures of his kids. Meghan has a special place there with her own commemorative mugs displayed on Thomas' mantlepiece.
HIS BIRTHDAY WISH TO MEGHAN WAS IGNORED
When Meghan celebrated her 38th birthday last month, Thomas decided to wish his daughter on her special day with a card.
He tried sending it to her through her financial adviser in LA, but he did not receive any acknowledgment from her side.
"I have no idea if she got it," he said.
Meghan has not reached out to him ever since her wedding, which he did not attend since he suffered a heart attack at the time.
MEGHAN'S SISTER SAID SHE "DOES NOT HAVE A HEART"
Previously when Meghan's letter to her father was released, Meghan's half-sister, Samantha, accused her of being a liar.
She further claimed that Meghan did not reciprocate her father's love and said she "does not have a heart."
"She can't turn herself a victim here," she said.
Samantha has always been vocal about the feud between her and Meghan and often criticizes Meghan for not reaching out to their dad.
Please fill in your e-mail so we can share with you our top stories!