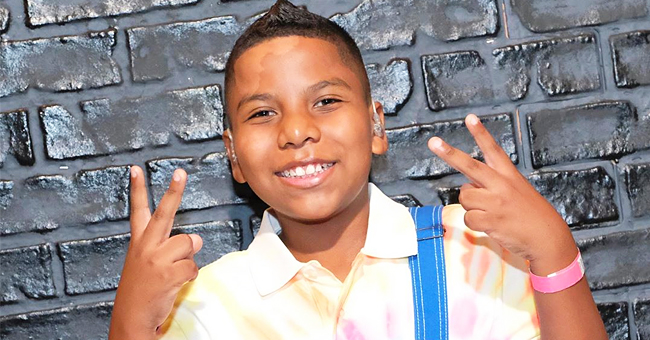 instagram.com/agt
AGT 11-Year-Old Violinist Contestant Who Beat Cancer Hopes to Be an 'Inspiration' to Children
A little man moved the world with his audition in the American talent show, America's Got Talent and was awarded the golden buzzer by perhaps the toughest judge on the show: Simon Cowell.
Young Tyler Butler-Figueroa hopes to be an inspiration to many children who suffered as he did. America's Got Talent witnessed a monumental wave of emotions when little Tyler Butler-Figueroa stepped out on stage.
The young boy was diagnosed with Leukemia at the tender age of 4 ½ and was bullied for losing his hair and the rumors of his cancer being contagious.
Simon Cowell was moved by the young boy's spirit and answered to the bullies on his behalf with a golden buzzer.
"I just didn't want to be the kid with cancer, so now I'm the kid who plays the violin," Tyler said.
AGT MOVING TOWARDS THE SEMIFINALS
The competition is heating up on the talent show as mesmerizing acts shift gears for a chance to win $ 1Million prize and performing in the live shows in Las Vegas.
AGT judge, Simon Cowell praised the young boy and said, "That's the act everyone will the rooting for."
"It means a lot to be Simon's Golden Buzzer," Tyler told People. "It's hard to convince him[,] so to get his Golden Buzzer means a lot."
TYLER A FAN FAVORITE IN AGT
Tyler has become the fan-favorite in AGT. In addition to Simon's support, he was praised by Gabrielle Union, for inspiring kids to "put down their controller and pick up an instrument."
The judges all praised the young boy for being strong having his own vision of life. At the end of the audition, Tyler went from the kid with cancer, to the kid that played the violin.
The night was not so fortunate for some contestants, however. Simon's comments shook a couple of acts to the core and sent them home with tears in their eyes.
I DON'T FEEL GREAT ABOUT MY COMMENTS SAYS SIMON
After some "disappointing" acts, Simon's comments, though meant to be tough love, caused two acts to burst into tears. Dance troupe Light Balance Kids, and singer Charlotte Summers were the victims of Simon's comments.
"I don't feel great about that, but at the same time, I can't look at someone, regardless of their age, and lie to them and say that was a wonderful song choice or that audition was better than the one before because what's the point of having judges," Cowell said. "It's mentally positive criticism."
The contestants who've moved on to the semi-finals are getting ready to mesmerize the live shows with their talents. May the best act win.
Please fill in your e-mail so we can share with you our top stories!