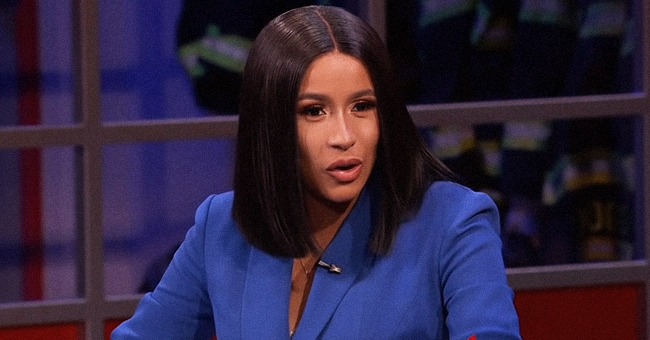 Youtube/Jimmy Kimmel Live
Cardi B Denies Insulting 10-Year-Old Boys for Their Diss-Track against Her, Saying She 'Belongs in a Zoo'
Cardi B is back in the news, and it's not for her usual social media gimmicks. Instead, the rapper is in the news for allegedly insulting 10-year-old boys.
It all began a couple of weeks ago when four 10-year-old brothers posted footage via Instagram dissing the mother-of-one. The band, comprising fraternal quadruplet brothers, include Hollywood, Slim Z, Bonez McKoy, and Mr. Great.
And according to PEOPLE, the boys claimed that Cardi is a "washed up" artist who "belongs in the zoo." The four brothers also stated that: "I don't know what's faker: your life or your butt." The boys have since become famous with their Instagram account boasting of over 143,000 followers.
But the story doesn't end there as Cardi, who isn't one to take things lightly, took to her social media platforms to get some things off her chest. During a live Instagram feed, the "Bodak Yellow" rapper can be heard talking angrily
The tirade naturally got her fans and critics worried that she might be taking a swipe at the four brothers. But Cardi has denied that allegation via a post on her Twitter account. The rapper posted the full clip from her Instagram live session with the caption:
"First of all, I was talking about a fan base that was coming for me when it comes to album and Grammies, and people chopped my video to make it seem like I was talking about them kids. Second, why don't ya go bitch to the parents that got lil kids talking s**t about others?"
The "I Like It" rapper who had gotten pregnant while working on her album can also be heard saying
"For me to put out an album and everybody say you used your pregnancy for this. No, it's not an excuse. It was just an extra."
Despite the 26-year-old's tirade, the boys don't seem bothered. Daily Star states that "Hollywood" – the lead rapper – explained that Cardi is a bully. Hollywood also added that:
"We wanted to show Cardi B not to be a bully and give her a taste of her own medicine."
Additionally, the 10-year-old feels like they have done their "job" as regards dealing with a bully.
Please fill in your e-mail so we can share with you our top stories!