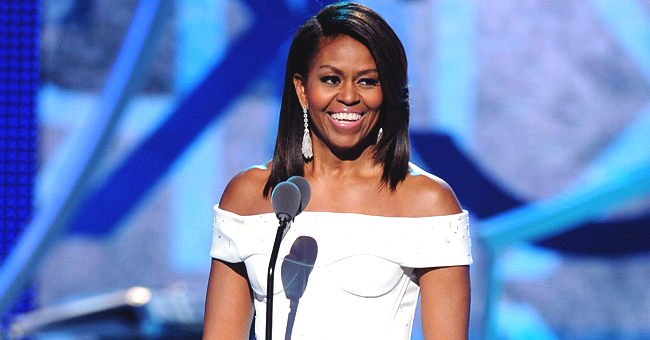 Getty images
Michelle Obama, Former 1st Lady, Shares TBT Photo from Her Childhood School Days with Inspiring Message
It's Thursday, and Michelle Obama has taken to social media to share a dated picture of herself to inspire the female population.
The Obamas were formerly the First family, but being out of office didn't stop them from being inspirational figures to the public. Michelle, the matriarch of the home, has proven this right several times and continues to do so.
Just a few hours ago, the gorgeous author took to her Instagram to share an inspirational message with the general public. The post is only a few hours old features a throwback picture of Michelle as well as a lengthy message.
The picture features a very young Michelle in what looks like the typical school uniform. Because the image only captures upper part, very little can be seen of her ensemble.
The mother of two smiled brightly with her eyes slightly closed, telling of her excitement at the time of the shot. The only accessory visible in the snap is an intricate gold necklace that hung low on Michelle's neck.
Aside from the rarity of the picture, it is Michelle's heartfelt message that has drawn attention. Michelle started:
"It's after Labor Day, so I'm thinking about all the young people heading back to school and reflecting on my own days as a student in Chicago'"
The former First wife goes on to share how important she found education. She explained how she had not only learned the basics like the multiplication table but also "how to push myself, be a good friend, and dust myself off after a failure."
She further says that it is so easy for people to take education for granted, "especially here in the United States." She continued by saying:
"Right now, more than 98 million adolescent girls around the world are not in school. I believe every girl on the planet deserves the same kind of opportunities that I've had—a chance to fulfill her potential and pursue her dreams."
The 55-year-old emphasized that giving the female child an opportunity to learn should not be considered a waste. She added passionately:
"They'll seize it. And when they do, our whole world benefits."
So far, the picture has earned over a million likes; this represents how popular it has become online. The image is sure well received as many took to the comments section to laud Michelle's inspirational message.
A notable few, however, asked the big question of "what about the boy child? " Well, here's to hoping Michelle has one for the boys too.
Please fill in your e-mail so we can share with you our top stories!