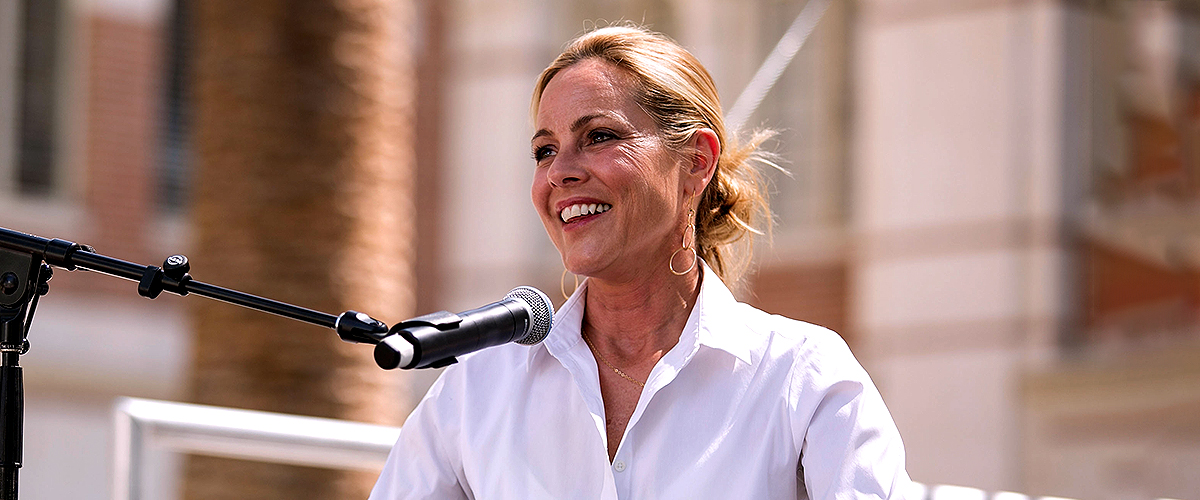 Getty images
'NCIS' Maria Bello's Son Is All Grown up and He Is a Carbon Copy of His Beautiful Mom

Maria Bello, the actress best known as Dr. Anna Del Amico on "ER" and Jack Sloane on "NCIS," has a grown-up son who looks exactly like his famous mother.
Born in Pennsylvania on April 18, 1967, Maria's career in the entertainment industry started in 1991, when she appeared on "The Commish." From that point on, she would take acting gigs on different shows like "Due South" or "Nowhere Man."
Maria Bello's career
It wasn't until 1996 that she got her breakthrough role as Mrs. Smith on the spy TV series "Mr. & Mrs. Smith." Even though it was canceled after only eight weeks, it was enough for "ER" producers to see Maria's talent.
She was cast as the pediatrician Anna Del Amico to appear in the final three episodes of the third season. Due to her performance, she was promoted to a regular cast member for the fourth season.
Her most famous roles
During her time on "ER," she won a SAGA for Outstanding Performance by an Ensemble in a Drama Series in 1997.
She later moved on to the big screen, playing Lil Lovell on "Coyote Ugly," a role that won her a Blockbuster Entertainment Award for Favorite Supporting Actress in a Comedy/Romance
The project that got her more awards and recognition, though, was "A History of Violence." Released in 2005, Maria played Edie Stall in the neo-noir action thriller that was adapted from John Wagner and Vince Locke 1997's book of the same name.
Thanks to her performance, she won a Chicago Film Critics Association, a New York Film Critics Circle Award, and an Online Film Critics Society Award. Apart from that, she was nominated to a Golden Globe and a Satellite Award.
Her son, Jackson Blue
Maria's romantic life has been one of a kind. During the late 90s, she was in a relationship with TV executive Dan McDermott. Together, they welcomed a son to the world named Jackson Blue.
In June this year, the actress took to Instagram to congratulate her son on his graduation. In the pic, the mother-and-son duo posed together while flashing their smiles, showing their uncanny resemblance.
Maria wore a beautiful pink dress covered by a black blazer while side-hugging Jackson, who opted for a dark blue outfit and black academic regalia.
For the caption, the proud mother wrote:
"'Love and Positivity...' [Jackson] Let the commencing of more adventure begin. Congratulations son!"
Earlier this year, the actress uploaded another photo of Jackson wishing him a happy 18th birthday.
"18years ago today Jackson Blue McDermott was born at 2:22 am. Greatest blessing of my life. Thank you God. I love you son. Happy Birthday!" she shared in the caption.
Her romantic life
In November 2013, Maria surprised everyone by writing an essay for the New York Times wherein she revealed she was in a romantic relationship with her best friend, Clare, who "is like a godmother" to Jackson.
Her text described how hard it was for her to tell her son, who was 12 at the moment, about her decision to date Clare. However, Jackson proved to be very open-minded as he only said: "Mom, love is love, whatever you are."
Unfortunately, her romance with Clare didn't work. In March 2016, it was confirmed that she was dating a man again: Elijah Allan-Blitz, a virtual reality director for mindfulness teaching.
The first time the couple was linked was in August 2015 when they were spotted together in Santa Barbara, California.
Maria Bello's current life
Nowadays, however, they are no longer together. Neither of them has photos of each other on social media and, to top it off, Elijah, 32, was spotted kissing "Captain Marvel" star Brie Larson in July this year.
At the moment, Maria is busy with her career. In 2015, she released a book titled "Whatever...Love Is Love: Questioning the Labels We Give Ourselves." Apart from that, she has been portraying Jack Sloane on "NCIS" since in 2017.
As per Jackson, the carbon copy of Maria, he moved to New York to carry on with his academic studies, according to an Instagram post that the actress shared on August 11.
Please fill in your e-mail so we can share with you our top stories!