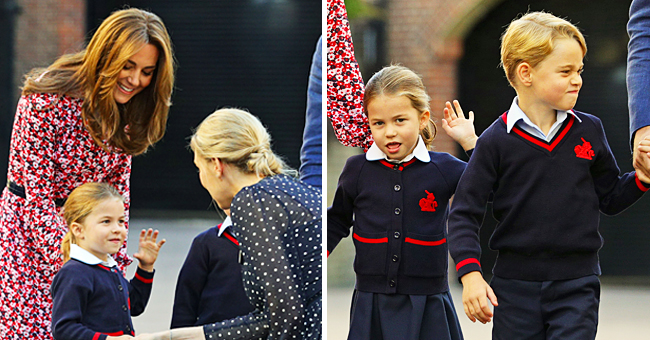 Getty images
Kate Middleton Cheers up Princess Charlotte Telling Her Prince George 'Would Lead the Way' on Her First Day of School
It was all camera flashes and admirable stares when Princess Charlotte went to school for the first time. Her mother, Kate Middleton, was on hand to cheer the little Princess up as she took her first steps at school.
Prince George and Princess Charlotte were the cynosures of all eyes at London's Thomas's Battersea School. Those eyes would have been more fixated on the 4-year-old Charlotte, who was attending school for the first time, as she walked into school with her mom, dad, and brother beside her.
She sure was pleased with her mom's presence, as the Duchess cheered her daughter up on her big day.
PRINCE GEORGE WILL LEAD THE WAY
A very short clip of the little Princess's first day, which featured her walking into the school with her parents and brother was posted on Twitter by Kensington Palace.
The 4-second clip was captioned with the words:
"Princess Charlotte arrives for her first day of school at Thomas's Battersea, joining her older brother Prince George."
The Duchess could be heard saying to her daughter,
"George will help lead the way."
Those words from the Duchess to her daughter seemed to reassure Charlotte that she was in safe hands with George, who is a returning student to the school.
CHARLOTTE'S FIRST STEPS IN SCHOOL
If Charlotte had been anxious, it showed in the way she carried herself, as she held tightly to her mom's hand and also hid behind her. The little Princess played nervously with her hair when Helen Haslem, head of Thomas's Battersea lower school met with the Royal Family and shook hands with Charlotte and her brother, George.
After that, Charlotte waved lightly at the cameras, while her father told Helen that she (Charlotte) was very excited, considering it was her first day of school.
After a couple of pleasant exchanges between Kate and Helen, the royal couple took Charlotte to her classroom.
CHARLOTTE AND GEORGE'S CLOSE BOND
The Royal siblings do share a close bond, and it is little wonder that their parents have decided to send them to the same school. Though Charlotte is an expressive person, her older brother is more reserved, and this polarity in their behaviors is evident when they make public appearances.
Despite these differences, the siblings are very close to each other. An Insider source revealed to People that George and Charlotte have learned to lean on each other, as playdates with outsiders could be tricky.
Please fill in your e-mail so we can share with you our top stories!