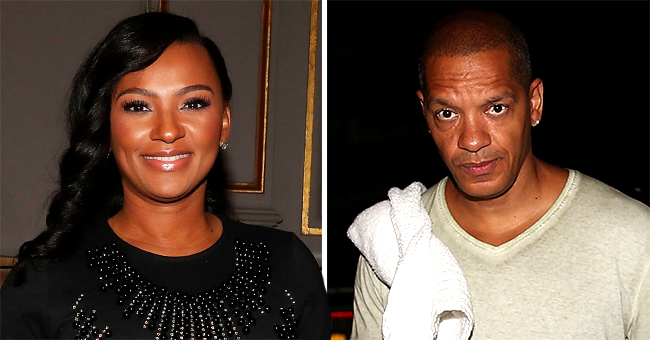 Getty Images.
Tara Wallace Posts Beautiful Photo with Her 3 Sons Whom She Shares with Peter Gunz

The delectable onscreen sensation, Tara Wallace, recently flaunts her "Gunz" boys on Instagram.
Tara Wallace is a proud mother of three children, whom she shares with her decade long boyfriend, Peter Gunz. A recent Instagram upload on Peter's girlfriend's timeline featured all his sons alongside their mother.
The pack stylishly sat in the middle of a stairwell. Tara donned an all-black attire, top to bottom, and had her head tilted to rest on her hand, giving a "boss lady" look.
Her oldest son paired his dark coloured converse with a bright short sleeve and khaki shorts. His younger brother, wore a black short-sleeve shirt, khaki shorts, and a blue all-star.
That was not all, the youngest Gunz adorned a blue coloured shoe, along with a light-coloured shirt and dungarees. While Tara's third son focused his attention with the shutters and a bag of chips, the rest of the family concentrated on posing for the click!
The African American TV personality captioned her photos with words suitable for the poses and shows how fierce they might be. In her words:
"We Rock and We Roll all day! Kick in the door; we're more hardcore @lucky_peters. #family #my3sons #momofboys #kidsinthecity #backtotheshack @weezer."
Fans posted heartwarming comments; some commended their looks, others couldn't help but notice the toddler's hands in the chips. Their dad also joined in the mix of comments. He proudly signified that they are his kids with a "mine" in the comment section.
The "Love and Hip Hop" star was not playing when she talked about being hardcore. After a series of drama with her baby daddy's wife, Amina Buddafly, on the "Love & Hip Hop" show, she decided to tone down hardcore to create a healthy environment for the kids.
Reportedly, she promoted Amina's album "Mother," and it appears both women share a good relationship; after all, they share one partner. Although Peter fathers kids with his longtime ex-girlfriend, he decided to marry Amina, a German-born singer, five years ago in a secret ceremony.
While he had a hard time picking one as he claims to be in love with the pair, Mr Gunz opened up on his resolve. According to sources garnered by Hollywoodlife.com, the singer's husband whom she married six years ago, expressed how sorry he felt about his mistakes.
He admitted to cheating with his ex-girlfriend and getting both women pregnant almost at the same time. However, Peter explained that he doesn't regret all that happened since it involves bringing a new life to earth.
He acknowledged that his babies are his world, and so to have regrets, is to hate the fact that his kids were born. Peter isn't the only one who loves his children. Tara also adores her boys and revealed that she was done giving birth to any more children so that she can have time to be a good parent.
The mother of three is busy rocking with her boys and being an excellent mother!
Please fill in your e-mail so we can share with you our top stories!