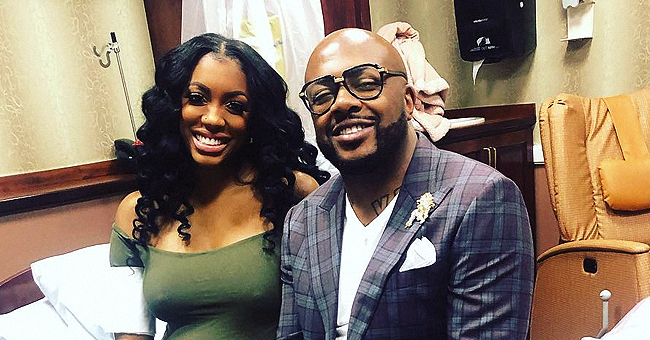 Instagram/workwincelebrate
Dennis Mckinley Teases Porsha Williams about Doing Pilar's Hair as He Shares Adorable Photo of Baby
Dennis McKinley is a doting dad, and he sweetly teased Porcha Williams about their daughter Pilar Jhena's hair,
Dennis McKinley's daughter with Porsha Williams, Pilar Jhena, is daddy's little girl and the proud father posted an adorable photo of the baby on Instagram, teasing his fiancee about her hair.
Pilar Jhena is growing up so fast, and mom and dad are loving every moment.
PILAR JHENA - A SLEEPING CHERUB
Dennis shared an adorable photo of 5-month-old Pilar Jhena that had fan's hearts melting.
In the snap, Pilar is fast asleep, wearing a gray onesie with big black polka dots and pink trim, and her hair is standing on end. Dennis couldn't resist teasing Porsha:
"My sweet baby @pilarjhena ❤️❤️❤️❤️why yo momma do your hair like this before bed ????," he said.
Rumor has it that Porsha and Dennis are working on their second baby.
PILAR JHENA - MEDIA MINI-STAR
Of course, every photo mom and dad post of Pilar gets thousands of likes and lots of comments. Pilar is a social media favorite with her own Instagram account and over 230,000 faithful followers.
MOM AND DAD ARE RECONCILED
The best news is that Pilar's mom and dad are engaged again, after having broken off their relationship over infidelity rumors. But everything is all right now, and the couple is even thinking of giving little PIlar a brother or a sister.
WAITING FOR THOSE WEDDING BELLS
While Dennis cheekily admitted in a recent interview that he and Porsha were working on baby #2, the couple have yet to set a wedding date.
Porsha has revealed that they are working things out slowly, before setting the date, but they've been seen out and about hitting the hotspots in Atlanta and Las Vegas.
Have fun, you two!
SIZZLING DATE IN LAS VEGAS
Recently reconciled couple Porsha Williams and Dennis McKinley sizzled the Las Vegas night at an adults-only party and proved that the spark between them is definetly relit.
Dennis posted a steamy photo of the two dancing in Las Vegas and captioned it:
"Me and mine vs you and yours."
And who can blame him? Porsha was wearing the teeniest provocative bikini, with leopard print and contrasting yellow ribbons. And she'd got her fabulous figure back.
But probably not for long, because rumor has it that Porsha and Dennis are working on their second baby.
Please fill in your e-mail so we can share with you our top stories!