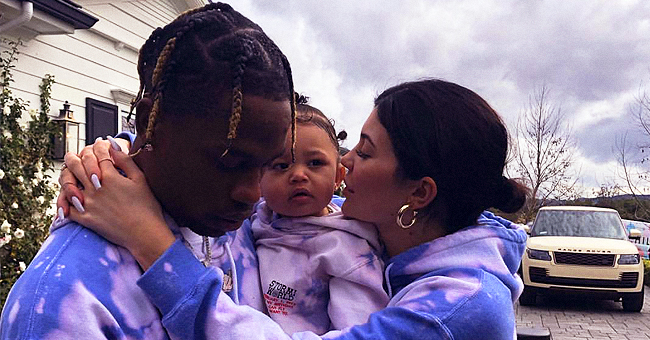 Instagram/kyliejenner
Kylie Jenner Speaks about Daughter Stormi's Personality and Who She Resembles More
Kylie Jenner is every bit the proud mother as she fondly shares intimate details about her one-year-old daughter, Stormi on the Ellen DeGeneres Show.
The world-famous reality star was in an interview with Ellen DeGeneres when she lovingly discussed how Stormi inherited little bits of her and baby daddy Travis Scott. According to Jenner, the little beauty is just "the perfect mixture" of them.
Momager Kris was also present, and she attested to this sharing that baby Stormi reminds her of a baby Kylie. "It's really wild," the Kardashian-Jenner matriarch excitedly quipped.
The interview was made public after DeGeneres gave a sneak preview of the return of "The Ellen DeGeneres Show," which is set to air on Monday. The short clip has Kylie Jenner fondly talking about her daughter's habits and which parent she resembles more.
"[Stormi] is so adorable, and such a good baby," began DeGeneres, sharing that she saw Stormi backstage before the show.
Happily, Jenner, who only recently marked her 22nd birthday, reiterated that and disclosed that her little girl "comes everywhere with me."
DeGeneres continued the discussion complimenting baby Stormi for being "so mellow." It led her to ask who the little girl resembles the more.
"She is the perfect mixture of the both of us. She's definitely like a little rager, she loves music," a smiling Kylie responded.
It was at this point that Kylie turned towards her entrepreneur mother. As if to add some credit to her statement, she hints at how Kris usually mentions that Stormi is a lot like her.
"You tell me that Stormi reminds you a lot of me," she said.
"She is like a little Kylie. It's really wild. Sometimes she looks at you, and you think I have to remind myself 'No, that's my granddaughter, not Kylie," Kris said in response.
The interview comes soon after baby Stormi made her first red carpet appearance. The popular youngster was in attendance at the premiere of her rapper father's Netflix documentary "Travis Scott: Look Mom I Can Fly."
While her parents looked dapper – Kylie in a white dress and Travis, a black suit – little Stormi caught attention wearing a green onesie and white baby boots. The event also made excellent time for Kylie to display great love for her fast-growing daughter.
While speaking to a reporter, the gorgeous reality star revealed that Stormi "just says a new word every day!"
"She's so smart," Kylie had said beaming with pride. The one sure thing is that Stormi is one little lady to watch out for!
Please fill in your e-mail so we can share with you our top stories!