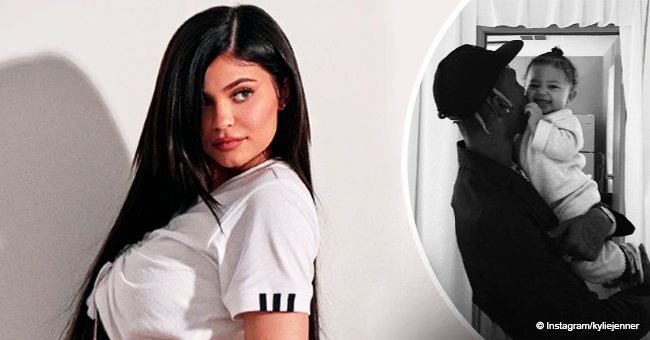 Kylie Jenner melts hearts with touching photo of Travis Scott showering baby Stormi with kisses

Kylie Jenner honors Travis Scott in her latest post as he shows affection towards their daughter Stormi in the midst of staging his concert tour.
Kylie Jenner's Instagram has family love written all over it. In her latest post, she gushes over her boyfriend, Travis Scott, whose affection towards their daughter, Stormi abounds.
SUPPORTIVE "WIFEY"
Kylie has been showing a lot of support for Travis who recently staged his "Astroworld Festival" at the NRG Park in Houston. Along with Stormi, the doting mom watched in awe as her baby daddy took the stage and entertained fans.
In one of her posts, she lauded Travis for his hard work and assured him of her love.
"Only the people around you really know how hard you work. I love to watch you make all your dreams come true. Your first festival. We're so proud of you. We love you."
She accompanied the message with a series of black-and-white photos capturing affectionate moments between the singer and their daughter. He's hugging her, kissing her and squeezing her tightly as the 9-month-old giggles in delight.
Travis reciprocated Kylie's show of love by responding on her comments section and writing,
"I love you wifey"
He also made special mention of his family while performing on stage, a special moment Kylie caught on video and shared on her Instagram Story.
"My beautiful wife, she came out, my beautiful daughter, she's here too. I love y'all so much."
STORMI'S STAGE TOUR
Travis' tour kicked off in Baltimore where he first melted hearts taking his daughter on stage. In a clip Kylie shared, Stormi sits on her father's shoulders as she gets a tour of his workplace. The footage was taken during rehearsals so father and daughter got to spend some play time.
SPARED FROM THE WILDFIRES
Kylie was with Travis and Stormi on tour when the California wildfires threatened her sisters' homes. Kim, Khloe, and Kourtney Kardashian were forced to evacuate and move in with their siblings Rob Kardashian and Kendall Jenner.
COCKROACH ALERT
Kylie returned in time for Rob's daughter, Dream's 2nd birthday party. She even documented the lavish fairy-themed fete. A video she posted drew negative attention though due to the presence of a cockroach crawling near the birthday girl's cake. None of the family members responded to the comments of disgust that stemmed from the sighting. Not even Kylie who probably wasn't aware of the presence of the insect when she filmed the scene.
Please fill in your e-mail so we can share with you our top stories!