Derek Hough 'Definitely' Wants Kids but Not 'Quite Yet'
"Dancing with the Stars" Derek Hough is enjoying life as the handsome, young uncle of his family, but he can't wait to become a dad. However, the 33-year-old says he's not quite ready yet.
Derek Hough is eager to start a family in the future, but for now, there's no pressure to get married or start having babies, as he's at the peak of his dancing career in Hollywood.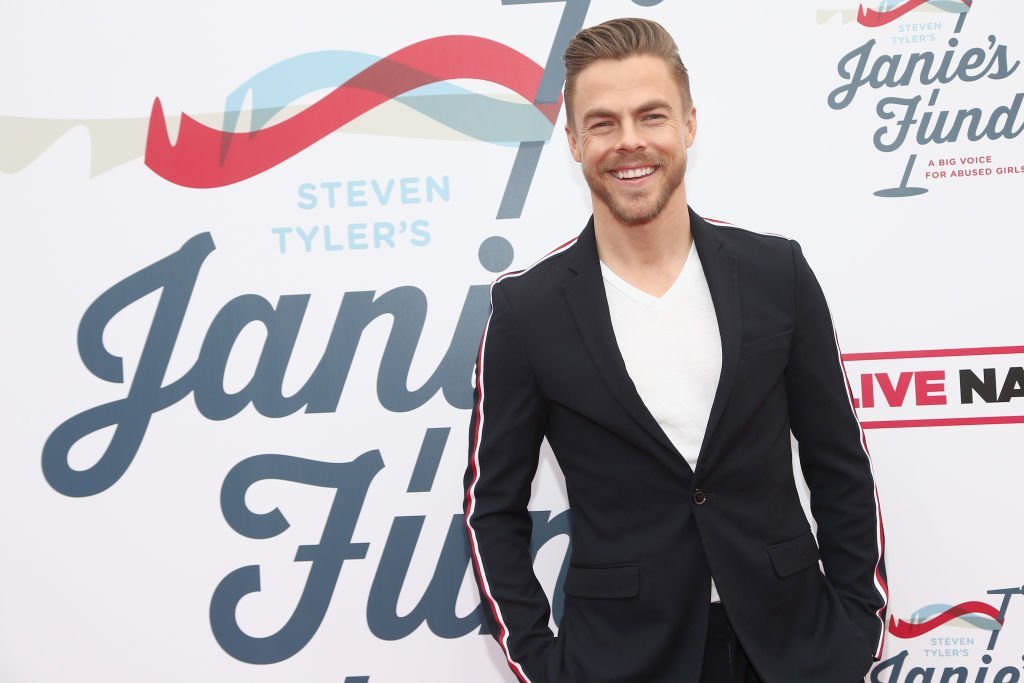 STALLING ON ENGAGEMENT
The Emmy Award winner has been dating a fellow dancer, Hayley Erbert, since 2015. 
The couple seems to be madly in love, but despite peer pressure from fans and the media, Hough hasn't popped the question to Erbert yet.
"I want to marry once," Derek explained to Entertainment Tonight on why he's taking his time. Adding:
"I want to be with that person that I love dearly. I want to get to know that person. I feel like, if anything, it's something that I don't feel like should be rushed into doing at all."
However, Hough has hinted on different occasions that he's ready to take the next step in the relationship anytime soon.
When asked on Ellen DeGeneres show a few years ago if he was thinking of settling down, Hough said he saw himself married and with kids in a span of five years. That was three years ago.
Although Derek and Hayley are taking things slow, the pair has become a fan favorite couple, often sharing adorable pics, going on vacation trips and just doing mundane couple-y things that fans can't stop gushing about.
EAGER FOR KIDS
When asked by US Weekly on December 2017 if his family was pressuring him to get married and have kids now that his sister Julianne got hitched, Derek said that wasn't the case at all.
"Oh, no. If anything, [we have] a lot of [family], there's like 55 nieces and nephews. We got plenty, we're fine!" he joked.
"Kids are ruined for me because I have the most adorable nieces and nephews," he continued. "The standard is high, man. The standard is high! These kids are awesome."
Still, that doesn't mean the dancer is putting off the possibility of having kids of his own. He definitely sees kids in his future, but not "quite yet."
"You know, you kind of live in that time where you say, 'Yeah, yeah, I want kids' but I think you just sort of say it automatically," he said. "I don't really know if you know it or not — at least I didn't — but I'm certain now that I definitely want kids, yeah."
HE'LL BE A GREAT DAD
Early this year, Derek made a pause on his busy schedule to visit the Boston Children's Hospital to gift the kids with some dance, music, and fun.
There, Hough explained that is always a pleasure to give back to the community whenever he can, stressing that no matter how busy or tired he is, he's always ready when it comes to putting a smile on the less fortunate.
"I am so thankful for the opportunity and the ability to do what I do, and to be able to come and help and serve in some way," he told Entertainment Tonight. "To dance and perform and be on stage, and to be able to share that joy with others, that is really special."
Hough took the chance to gush about his nieces and nephews once again, adding that:
"I'm going to have kids one day. So for me seeing these parents here, to see their strength, to see their love for their kids, it's beautiful to be around."
For now, Derek and Hayley are parents to a lovely cat named Palo, which they rescued when he was a kitten and nursed back to health.
The three of them are a happy family, but fans can't wait to see the family grown in the future.