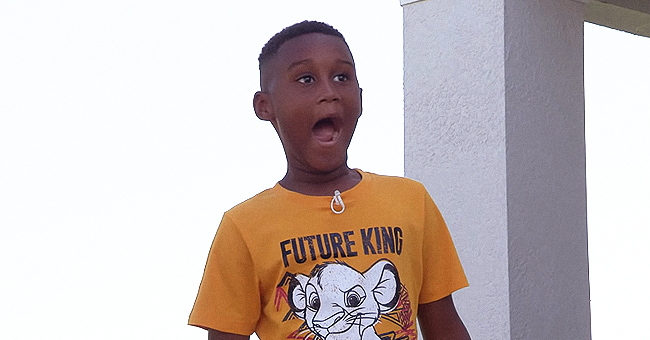 Youtube/Disney Parks
Florida Boy Who Used Savings to Help Hurricane Dorian Victims Surprised with Disney World Trip
A 6-year-old boy who spent his Disney vacation savings to feed Hurricane Dorian evacuees gets a sweet surprise from Disney World.
The story of 6-year-old boy Jermaine Bell went viral after he decided to spend all of his Disney vacation savings to feed Hurricane Dorian victims. He was praised for his kind heart and generosity, and of course, the story reached Disney.
Disney magic makers surprised Jermaine with an all-expense paid vacation to Disney World to reward him of his kind deeds.
A Hurricane Hotdog Stand
Jermaine's original plans to visit Disney were canceled when Dorian hit South Carolina last week. Jermaine, who lives with his grandmother in Allendale, South Carolina, decided to purchase hundreds of hot dogs, chips, and water to feed evacuees instead.
The Disney trip was supposed to celebrate his 7th birthday, but it didn't matter to him. He knew he had to give back to those affected by the calamity.
A Surprise from Disney
Disney took notice of his kind deeds, and a week after closing his hurricane hot dog stand, employees from Walt Disney World showed up to deliver his gift personally. They even had mascots of Minnie and Mickey with them to celebrate.
Jermaine and his family are set to visit Orlando later this month when he's had free time off school.
Just like Jermaine, many celebrities have made choices to help those affected by the deadly typhoon, particularly in the Bahamas.
Other Good Samaritans
Tyler Perry vowed to help rebuild the Bahamas following the hurricane. According to the philanthropist, he's going to do "whatever he can" to help rebuild it.
"… as soon as I can, I will be there to do whatever I can to help you rebuild stronger and better. You're not only in my heart and my prayers, you're in my blood. God bless you. Stay Bahamas strong. The sun will shine again."
Please fill in your e-mail so we can share with you our top stories!