'Dog's Most Wanted': Heated Exchange When Duane 'Dog' Chapman Goes to House Looking for Fugitive
In the new promo clip for "Dog's Most Wanted," "Dog the Bounty Hunter," star got into a heated argument outside a Hawaiian residence while searching for a fugitive.
The new promo for the show, "Dog's Most Wanted," of Duane "Dog" Chapman, showed him involved in a heated confrontation with a Hawaiian resident, identified as Rob.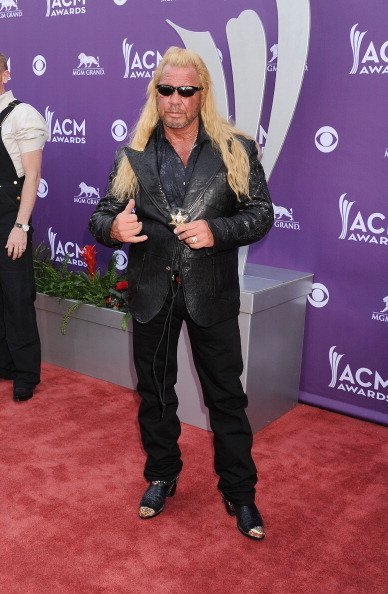 THE CONFRONTATION
In the video clip released by WGN America, Duane and his "Dirty Dozen" team arrived at a Hawaiian compound looking for an unnamed fugitive.
One of the fugitive recovery agents told the bounty hunter that a jeep parked in the compound felt warm, indicating that the person they were after was there somewhere.
However, Rob told the team that the fugitive got scared, and ran, making Duane who didn't believe him angry. The TV star angrily said to the Hawaiian resident,
"And if you ever go to jail in your life, I won't get you out. No one will get you out you [expletive] piece of [expletive]."
DMW WON WEDNESDAY NIGHT
Duane added that he has his wife who has cancer out here looking for the fugitive, and after Rob shook his porch railings, and stormed inside his house, the bounty hunter mockingly asked,
"What are you going to get? A gun felon?"
DMW premiered last Wednesday, and apart from chronicling the late Beth Chapman's fight with cancer, it follows her husband's quest to track down the fugitives on his most-wanted list across America. 
The premiere won over the night with a total viewership of 1.7 million and became WGN America's highest telecast since their original show, "Underground" premiered in 2017.
DUANE IS COPING BY GIVING BACK
Last Wednesday was also the first time Duane saw the final cut of DMW. He said in an interview before the premiere that he could not join the editing process because it was challenging to see Beth, and he found it hard to cope.
The TV star has, however, found a way to channel his pain into something positive. In August, the DTBH star started a collaboration with the Addiction Recovery Institute of America to provide help to those struggling with addiction.
In a social media post, Duane wrote,
"Call my team if you or someone you love has a problem with alcohol or drugs. 1-833-2 THE DOG. Let us help you change your life."
"Addiction only wins when you are alone," and encouraged those dealing with it to face it head-on.
DMW returns to WGN America on Wednesday night by 9 pm.