Oregon Couple's Plea to Working Parents after 8-Year-Old Son's Sudden Death from Epilepsy
An Oregon couple has shared the heartbreaking story of how they lost their 8-year-old son to epilepsy in a big to encourage working parents to spend more time with their kids.
Oregon couple, J.R. Storment and Jessica Brandes both penned heartbreaking essays about their son's death to warn working parents and urge them to prioritize their kids over everything.
The moving essays have gone viral and touched many hearts. Storment and Brandes are doting parents to 8-year-old twin boys Wiley and Oliver. 
How Grieving Parents Who Made Heartbreaking Plea Are Adapting to Family Life After Son's Sudden Death https://t.co/0oKREHacCY

— People (@people) September 11, 2019
However, their happy world soon came crumbling down when Brandes found Wiley dead in his bed and was forced to inform her husband of the devastating news over the phone.
Each parent recounted how they viewed Wiley's death on their individual LinkedIn accounts, as reported by PEOPLE.
In Jessica's open letter titled "All that Remains" she recalled that the only clue for explaining Wiley's death happened nine months ago when he had a tonic-clonic seizure.
She explained that when he was taken to the hospital, a pediatrician ordered an EEG, and Wiley was diagnosed with Rolandic Epilepsy.
However, highly-trained neurologists and physicians assured them that his case wasn't critical as he had the "best kind of epilepsy."
They advised that his sleep cycle be regulated and all would be fine. Wiley didn't have another episode after that. 
On one fateful day, Jessica noticed that Wiley was sleeping in longer than usual and that even when Oliver was playing an iPad beside him, he still didn't wake up.
That was when she lifted his blanket and realized her son had been dead for hours.  She recounted:
"I called my husband at work. We have a rule. We never call unless it's incredibly urgent. A text will suffice if it isn't. So, when one of us calls, the other answers—no matter what. He did answer, and I simply told him, "Wiley's dead." 
She continued:
"...when I finished that, I knew I had approximately 4 minutes to explain to Oliver that his best friend had died and 15 people were about to swarm our home. I asked him to pick a location where he would feel safe."
Storment, on the other hand, recalled how the news of his son's sudden death broke his heart. He explained that he was in a conference room with 12 people when he got the call.
The tech mogul confessed that minutes before the call came in, he had disclosed to the group that he hadn't taken more than a contiguous week off in 8 years.
On receiving the call, he called out for a colleague to drive him home. On getting to his house, their driveway was packed with emergency vehicles, and he wasn't allowed to hold or touch Wiley until two-and-a-half hours later.
Because of Wiley's sudden death, their house became a potential crime scene. In the emotional essay, Storment confesses that he regrets prioritizing work over his kids. 
He ended the post pleading with working parents to make time for their kids.
"Hug your kids. Don't work too late. A lot of the things you are likely spending your time on you'll regret once you no longer have the time, he wrote."
Many internet users have been touched by their story and have re-evaluated what is most important to them. 
This user attested: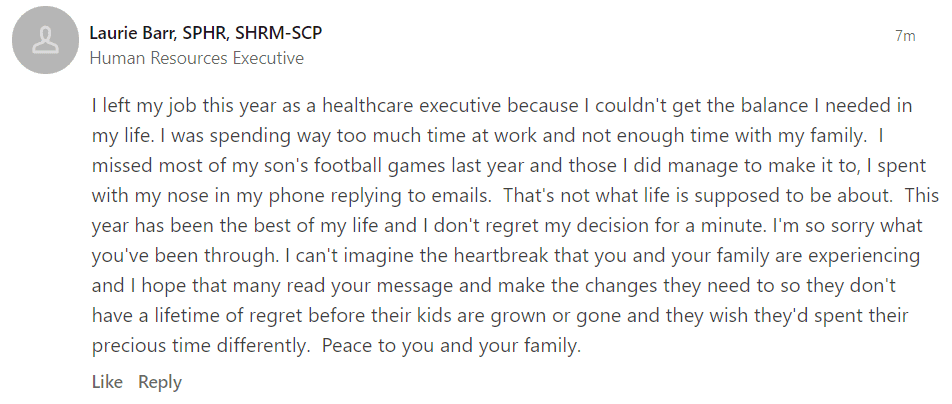 While this user related to the parents' pain:

Wiley died of Sudden Unexplained Death of Epilepsy as revealed in the essays.