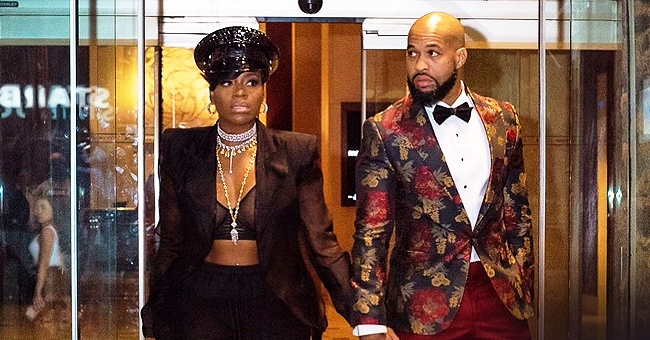 Instagram/tasiasword
Singer Fantasia Is in Black Outfit & Matching Cap as She Steps out with Husband Kendall Taylor
All eyes are on Fantasia and her sizzling fashion looks.
Fantasia shared a series of photos of herself and her husband stepping out for what looks like a serious party in a breathtaking outfit.
Fantasia had already floored the fans with her outfits for her performances at the 2019 BET Awards, and now she raised the bar yet again.
FANTASIA DAZZLES IN BLACK
Fantasia stepped out with her dashing husband in a stunning all-black outfit with transparent black gauze harem pants trimmed at the ankles with silk pom-poms.
She showed some skin in a provocative bustier under a beautifully tailored satin jacket and finished off her look with a sequined cap. Smoking hot!
Fantasia confided that they kept their love chaste until their wedding night.
KENDALL TAYLOR LOOKED SMOOTH AS SILK
We must admit that Fantasia's husband Kendall Taylor was a worthy companion to the sensual songstress. Kendall stepped out in an unconventional tuxedo with a jacquard rose-patterned jacket in tones of black, gold and burgundy, with matching burgundy pants, and a black bow tie.
THE ANGEL IN FANTASIA
But Fantasia just as easily plays the angel as the sultry temptress, as her fans witnessed at the 2019 BET Awards when she stepped onto the stage in a dreamy white gown reminiscent of angel's wings.
She accessorized her heavenly look with sky-high Christian Louboutin stilettos and diamond drop earrings. She looked absolutely divine.
FANTASIA NEW ALBUM
She later flipped to black for a sizzling rendition of "Enough" from her new album, Sketchbook.
Fantasia revealed that her new image, somewhere between Marlon Brando's "The Wild One" and an odalisque is the essence of her new album's inspiration.
Whatever she wears, whatever she sings, the truth is that the inimitable Fantasia nails it every time.
FANTASIA AND KENDALL TAYLOR'S WHIRLWIND ROMANCE
Fantasia opened up about the beginning of her relationship with her husband of 4 years Kendall Taylor, and she uncovered some surprising facts.
Fantasia and Kendall met at a night club, and he conquered her heart when he prayed for her safe journey home.
"I just knew [he was the one]. I was getting ready to go on the road, and he got on his knees and said, 'Can I pray for you? I just want to cover for you down the road.'" she said.
Three weeks after they met the two were married and Fantasia confided that they kept their love chaste until their wedding night.
What a beautiful couple, and what a wonderful example.
Please fill in your e-mail so we can share with you our top stories!