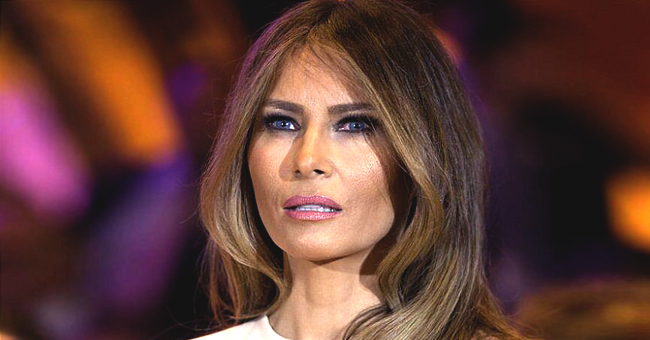 Shutterstock.com
Trump's Wife Melania Slammed for Coat That Looks like 'Plane Flying into Tower' in 9/11 Tribute Pic
Internet trolls came for Melania Trump for wearing a coat that looks like a plane flying into a tower in a tribute photo she shared in respect to 9/11.
The Trumps' might be America's first family, but they are frequently in the line of fire on social media, and this time, Twitter critics slammed Melania Trump for wearing what looks like a plane flying into a tower in tribute photo for 9/11.
In President Donald Trump's tweet to mark the anniversary of the 9/11 attack, the FLOTUS wore a coat with white embroidery on the lower back, and a button flap attached to it.
While it looked innocent enough, Twitter users thought it was inappropriate and insensitive. One person zooming in on the lower part of the coat wrote,
"I'm sure I'm not the first to spot this, but who in the world thought it would be a good idea for Melania to wear this coat in the 9/11 photo. It legit looks like an object [going] into a tower or the Washington monument."
Another person asked,
"Is that a plane crashing into one of the twin towers in the back of Melania's coat," while a third tweeted, "… did they fire all the stylist too, or is Melania the biggest troll ever?"
Despite the criticisms, one Twitter user saw the coat as "Cool," writing,
"Melania's coat has the Washington monument stitching with a button flap on the lower back. Very cool coat."
According to USA Today, the coat in the tribute photo was worn by Melania at a different time, and not on the 9/11 anniversary. For the memorial, the First Lady wore a black dress by Ralph Lauren to both the White House and Pentagon ceremonies.
Back in 2017, she also chose a black outfit, going with a long-sleeved coat dress by Michael Kors, and ditching her signature suede pumps for black.
President Trump also came under attack for his tribute photo, but not for his outfit. The POTUS got slammed for writing "We Will Never Forget," after he "Forgot" about the memorial and invited the Taliban to the United States over the weekend.
Pointing this out, one Twitter user, wrote,
"You did forget 'A bit' when you sought a photo op with the Taliban at Camp David last weekend."
Another pointed out in his tweet that Americans' will not forget when the President accused Muslims in New Jersey of rejoicing after the September 11, 2001 attack, and claiming he helped first responders at ground zero when he did not.
Despite the criticisms, President Trump, Melania, and Americans are united in remembering victims of the terror attack, and praying for the United States to thrive and prevail over the dark clouds of 9/11.
Please fill in your e-mail so we can share with you our top stories!