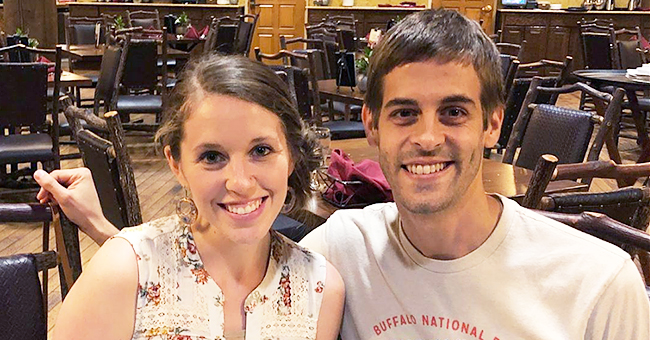 instagram.com/jillmdillard
'Counting on' Fans Concerned That Jill Duggar and Husband Derick 'Dislike Parenting' Their 2 Sons
Fans are deeply concerned that Jill Duggar and Derick Dillard are not into parenting as it seems as though they are not happy about their two sons.
Fans of the Duggar family and "Counting On" franchise have taken to Reddit to air their concerns about a particular couple in the extended Duggar family.
It all began when Redditor @u/Kalldaro asked fans of the show what couple they believe have regrets about having a child.
The user explained that for the Duggar family, the daughters have been used to taking care of kids from when they were little as they were put in charge of their younger siblings. However, the same can't be said for the Duggar boys.
@u/Kalldaro asked:
"Do you think any will have regrets on becoming parents or wish they had waited?"
Many fans of the reality show gave their answers, and the couple Jill Duggar and Derick Dillard have their names on everyone's lips.
These commenters believed Jill and Derick dislike parenting and advised they should enroll their boys in school to take some time off.

A fan's comment on Reddit. | Source: reddit/u/Kalldaro
For this user, Jill is the only Duggar who seems to be enjoying motherhood the least. The comment read:
"I'm sure she loves her kids, but she doesn't seem to like them very much."

A fan's comment on Reddit. | Source: reddit/u/Kalldaro
@maggiemazz29 wrote:
"Jill obviously hates parenting, as does Derick. I always get 'the lovestruck teenage girl forced to bring along her little brothers vibe' when Jill and the boys are around Derick."

A fan's comment on Reddit. | Source: reddit/u/Kalldaro
All of these users agreed with the popular notion that Jill and Derek weren't big fans of parenting.
According to CheatSheet, the family's financial struggle could play a role in why it seems Jill doesn't enjoy being a mother.
Jill and Derick reportedly share a car, and she is the sole breadwinner for the family given that Derick is currently enrolled in law school.
Also, Jill's painful deliveries were cited as reasons for her tired attitude to motherhood.
Regardless of what fans might think, Jill is ever ready to show off her boys, Israel and Samuel, on Instagram, and she never does it without a smile.
Please fill in your e-mail so we can share with you our top stories!