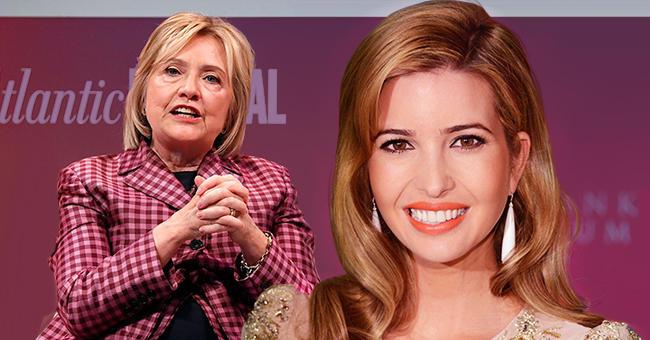 Getty Images
Ivanka Trump: New 'Tabloid' Podcast Compares First Daughter to a 'Young' Hillary Clinton
Who really is Ivanka Trump? That is the question a new podcast trying to unravel the mysteries surrounding the President's first daughter is trying to answer with comparisons likening her to her father's former political opponent.
There is a new podcast in town, and it's very first episode is focused on trying to unravel the mysteries surrounding Ivanka Trump, the powerful first daughter of the US President, Donald Trump.
The reason for concentrating on Ivanka may not be far-fetched, given how much power she wields.
THE MAKING OF IVANKA TRUMP
If there was ever a woman who has divided opinions in conversations around American politics, Ivanka Trump is one of such. That fact could be heard from the voices in a podcast trailer dedicated to the powerful First Daughter.
Of all the descriptions ascribed to the 37-year-old, the one that stood out was from a commentator, who described her as Hillary Clinton. The person behind the voice described Ivanka Trump as a young, never having a bad hair day Hillary.
There were other voices in the podcasts, including that of Ivana, Ivanka's mother, and some other people close to her.
The podcast which is titled: Tabloid; "The Making of Ivanka Trump" will make its debut on Monday, and from the look of things, or rather, the sound of things, it would make for a great listen.
ABOUT THE PODCAST
Luminary Media who co-produced the podcast in conjunction with "New York Magazine" described the first episode as a full-life inquiry into the making of President Donald Trump's first daughter.
It was also described to seek more insight into how she has grown from a child to becoming her father's most valuable asset. Vanessa Grigoriadis, a much-traveled journalist, would host the podcast.
This choice of Vanessa to have a podcast about the first daughter is a logical one, given her deep New York roots and connection to some of the people who have been or are close to Ivanka.
Hopefully, the podcast would go a long way in bringing to light some of the mysteries surrounding Ivanka, who is no stranger to tabloid gossips herself. Even as a child, she was thrown into the world of public news with the divorce of her father and mother, Ivana.
ARE PODCASTS THE IN THING NOW?
The new podcast continues a growing trend on the internet. Some of these podcasts are worth a listen, and it's no wonder they are becoming popular.
Please fill in your e-mail so we can share with you our top stories!