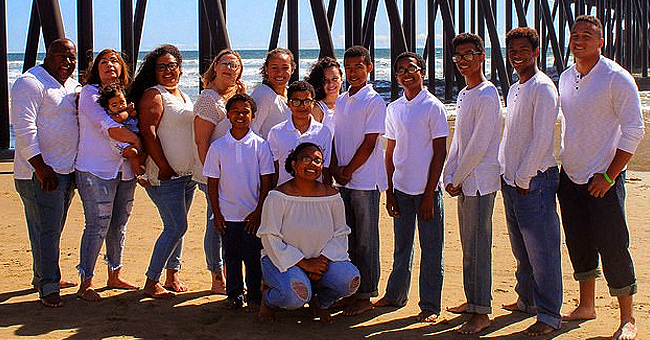 Twitter./DailyMail
Retired California Firefighter with 3 Wives & 9 Kids Ditched Monogamy Because He 'Loves Everybody'

A Californian man engaged in polygamy shares that creating such a large family is because of his love for "everybody."
Jermaine Roquemore is 41 years old, and unlike the typical American man practices polygamy. He has three wives and nine children, and so describes his family as an "empire."
Roquemore's first marriage was to Angelica when they were both aged 19. It wasn't until some three years later, before his second wife Leighanne, moved in with them. His third wife, Maria who is 41 years old, only recently moved in 2015.
As bizarre as the Roquemore family may seem to the average person, the family boast of a very tight-knit bond which some ordinary families don't even have.
The trio lives together with nine children in their California home. Roquemore, a retired firefighter, and businessman, proudly explains that he started his family when he was a teenager and that they just kept growing.
There is now a staggering age gap of 23 years between the oldest and youngest sibling. The former bouncer further shared his beliefs that monogamy is "insecure" while explaining that he always wanted to raise a family his way albeit strange it may seem to others.
Luckily, his first marriage was to Angelica who allegedly didn't ask him to be monogamous, but to respect her and her well-being.
"We're told to go out there and find the one, the perfect love, the perfect mate and spend the rest of our lives on this earth with just that one person. To me, that was very unideal because I love everybody." – Roquemore
The patriarch further explains that practicing polyamory had helped "expand our horizons." He shares that it is a much better lifestyle compared to him engaging in illicit affairs.
Now, Roquemore proudly shows off what it's like to live with three wives, and they genuinely seem happy. Albeit a rarity, the Roquemore family aren't the only known polygamous family, and it appears that many like them have chosen to create awareness about the practice.
Such is the story of the Dargers, the polygamist family that believes they inspired HBO's hit show "Big Love." The large family includes Joe Dargers, his three wives, Alina, twins Vicki and Valerie, and their 24 children.
In a bid to enlighten the general public about their unconventional family, they have written a memoir, "Love Times Three: Our True Story of a Polygamous Marriage."
The book has the family sharing intimate details about their beginnings. Also, they explicitly explain how they have managed to stay together despite objections from close relations' "pangs of jealousy" and how financially tasking their livelihood is.
Please fill in your e-mail so we can share with you our top stories!