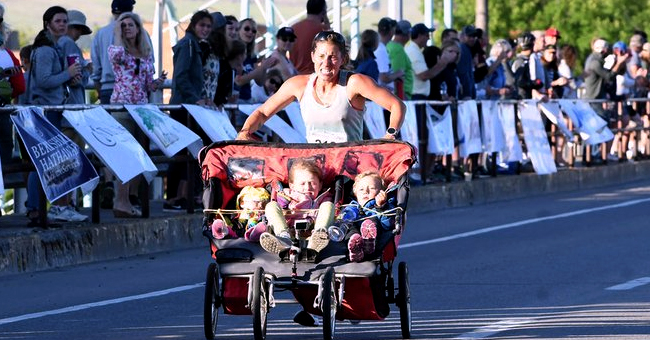 twitter.com/runnersworlduk
Montana Mom Who Broke Record While Running Marathon with 3-Kid-Stroller Says They Nap at That Time

The mom-of-three who broke the Missoula Marathon record in Montana said in a recent interview that her children spent time napping amid other activities.
Cynthia Arnold is a mom with a "Can do" mentality, and she's shown that motherhood is not an excuse to give up her dreams by winning and setting records at the Missoula Marathon in Montana.
CYNTHIA'S KIDS ARE A BIG PART OF HER WIN
After winning the half-marathon last year while pushing her three-person-stroller, the mom-of-three returned in 2019 to compete in the full marathon pushing her stroller which had her three children.
In a recent interview with People, the mom-of-three said whenever she takes her children out with her on a race, they use the opportunity to nap.
The record-breaker raced with a combined weight of 185 pounds…
She said:
"I generally would when they need to take a nap, and they just would fall asleep in the stroller."
The record-breaking runner also added that sometimes the children enjoy being in the stroller and take in the sights in rural Montana while she race.
SHE BROKE THE PREVIOUS RECORD WITH AN HOUR TO SPARE
During the June marathon, Cynthia finished in 3 hours 11 minutes, breaking the previous 4 hours 6 minutes record held by California runner, Anne Marie Cody.
To make the feat more laudable, the record-breaker raced with a combined weight of 185 pounds which includes the weight of her children, and the stroller.
In 2020, Cynthia plans to take part in the Missoula Marathon...
Also, Cynthia got accompanied on her race by her husband, who rode in a bike beside his family. In a Facebook post, the dad-of-three engaged his children in conversation, as he captured the race on camera.
In another, he asked them questions about the things they were seeing, and the trio happily mentioned the things they've seen.
CYNTHIA HAS BEEN RUNNING ALL HER LIFE
The Montana resident has been racing since she joined her high school's track team. She has competed in track and cross country races, with a fondness for trail running, and trail racing. After having her first child, Cynthia bought a stroller to train with her child, and as the number increased, so did the stroller size.
The record-breaker acknowledged in a past interview that running with three children is getting harder, as they are growing, but she has more records she hopes to break.
In 2020, Cynthia plans to take part in the Missoula Marathon by herself, with her children, and husband cheering her on from the sidelines.
Please fill in your e-mail so we can share with you our top stories!