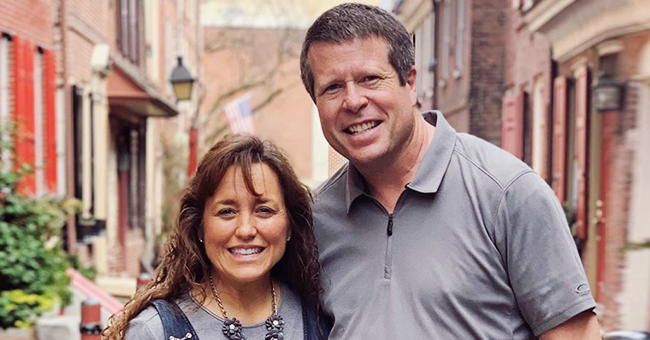 instagram.com/duggarfam
'Counting on' Fans, Duggar Family Send Warm Wishes to 'Amazing Woman' Michelle on 53rd Birthday

Michelle Duggar just turned fifty-three years old, and what better way to celebrate the special day than with her friends and family.
It happened that members of the Duggar clan turned up to celebrate with the family Matriarch, and also sending her well-wishes on social media.
Michelle Duggar celebrated her birthday in style, thanks to members of the Duggar Family who were on hand to make her day special. Apart from being physically present for Michelle, there were loads of birthday messages on social media from fans, friends, and family members alike.
CELEBRATING MICHELLE'S DAY
Anna Duggar led the well-wishers as she posted a series of pictures showing moments from her mother's birthday celebration. The first picture in the series showed Michelle surrounded by her sister, Amy, carrying a huge baby bump, as well as her daughters, Jessa and Anna.
Michelle Duggar received a vast array of messages, well-wishes, and tributes from her husband, children, family, and friends.
The second was a video clip which showed Michelle's husband, Jim Bob sing her a beautiful birthday song, helped by other members of the family, and also showed her blow the candles off her birthday cake.
The third photo showed the couple's eldest child Josh, busy grilling while the fourth picture showed the outcome of his grilling efforts.
In Anna's caption, she highlighted the importance of celebrating special days with family and friends, while also extolling some of her mother's numerous virtues. She also noted in her post that Jinger and Jeremy, who couldn't attend, sent their love to Michelle in the form of a bouquet
Anna's followers, who commented on her post, wished Michelle a wonderful celebration, also tagging her an amazing woman. A comment mentioned that even at 53, Michelle still looked ageless. There was also a comment of approval for Josh's grills.
JIM BOB AND HIS CHILDREN CELEBRATE HIS WIFE
The proud husband took time to pen down a sweet message for his lovely wife on Instagram. In the message, Jim tagged his wife as the sweetest wife, a loving mother, and a fun grandmother.
He reminisced on the unique getaway they had for her birthday and ended his post by saying that even after 35 years of marriage, he still wants to spend the rest of his life with her.
The mother of nineteen and grandmother to a dozen grandkids received a flurry of messages.There were more notes of love from Michelle's other family members, including those who couldn't make the celebration.
Jana Duggar shared a sweet tribute to her mother, adding a series of photos too. Jill Dillard also posted her mother a message on Instagram.
The birthday messages were not just from family members alone, as "Counting On" fans wished Michelle a happy birthday and a grand celebration.
Please fill in your e-mail so we can share with you our top stories!