'John Wick 3' Star Halle Berry Reacts to Troll Who Said She Has 'Hands of a Construction Worker'
Halle Berry has the classiest comeback to an Instagram troll who makes fun of the appearance of her hand. Her fans join in to defend her against the negative comment.
Recently, Halle Berry shared an innocent picture of her hand, with a butterfly resting on her fingertips. She captions the image:
"Today I was touched by an angel ?#SpiritAnimal"
In the picture Berry holds her hand out to a butterfly, her hand is inches away from bright green grass, scattered with purple flowers.
The image caught the eye of one commenter who decided to poke fun the actress, saying:
"The hands of a construction worker."

Berry is known more for her on screen fights in movies like the 2012, James Bond Movie, "007: Die another day," and her new release, "John Wick 3." So it is no surprise that she didn't engage this Instagram troll in any sort of battle off screen, instead she replied:
"I knew somebody was gonna crack on the [hand]."
With a following of 5 million, you better believe that her loyal followers responded immediately to the negative comment.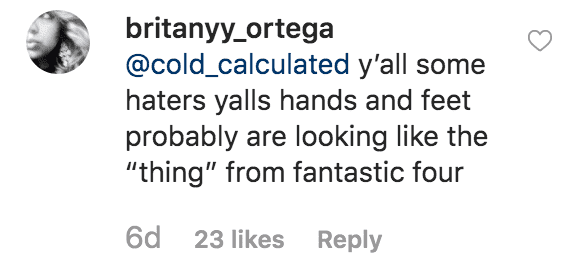 Berry probably doesn't need anyone to defend her right now. According to USA Today, while preparing to film "John Wick 3," her trainer, Peter Lee Thomas introduced her to an intense workout routine.
Her routine involved working out twice a day and it incorporated elements of mixed martial arts. Speaking about Berry's workout, he says:
"There's so much more the body can endure and go through. Training in martial arts is not only going to make her healthier but live longer." 
Training in mixed martial arts is also preparing her for her starring role and directorial debut for the movie, "Bruised." The MMA drama tells the story of a disgraced fighter who is adjusting to becoming a mother again to her six-year-old, she had previously given up.