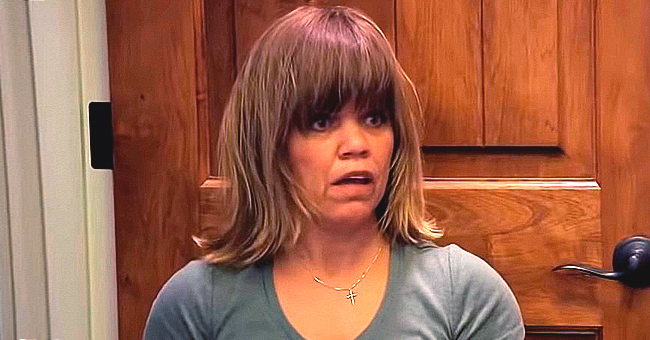 Youtube.com/Entertainment Tonight
Amy Roloff's Fans Slam Troll for Saying That She 'Broke up Her Family' after Seeing New Photos

Amy Roloff's troll received backlash from the reality star's Instagram followers after leaving a comment accusing Roloff of breaking up her family.
After over a year of planning a spectacular wedding, "Little People, Big World" star, Jacob Roloff, married his sweetheart, Isabel Rock. Photos from the wedding surfaced all over social media in celebration of the special day.
Jacob and Rock tied the knot on September 8, at the Roloff Farms, surrounded by their family and close friends. Although the wedding wasn't announced to the public beforehand, many members of the clan posted glimpses online, including Matt, Tori, Audrey, and the couple themselves.
The groom's mother, Amy Roloff, was no exception to the posting of pictures from the wedding, which she called "a beginning of a life long journey together." She took to Instagram to share beautiful snaps with her son, daughter-in-law, and boyfriend, Chris Marek.
COMMOTION ON INSTAGRAM
Among all the comments that flooded the post was one that stood out, accusing Roloff of breaking her family up after posting photos with her current beau. Fans of the reality star quickly fired back at the troll and defended Roloff.

Screenshot of comments from social media. | Source: Instagram.com/Amyjroloff
"I shall pray for you!!!" one comment read. "Im so very sorry that you have to be mean to Amy to make yourself feel better! I pray that God heals your heart!"

Screenshot of comments from social media. | Source: Instagram.com/Amyjroloff
"No one knows what happened in private It is their life and their business," another fan posted.
Another comment called out the user for her "unnecessary" feedback and suggested she mind her own business instead of meddling with the life of another. Roloff remained silent amidst the commotion that happened on her social media and probably won't mind it at all.
WEDDING SPECULATIONS
The post mentioned above was not the first photo that sparked Roloff's followers to talk about her relationship with Marek. Last August, she posted yet another sweet photo of her second day on the road with her boyfriend.
The couple began facing questions of a possible wedding coming soon, while others urged Marek to propose to Roloff soon. In the recent season of "Little People, Big World," Marek gave his sentiments on marriage, clarifying that it is a possibility that may happen.
"I've seen a lot of failed marriages, a lot of divorces, in my family," he said. "I mean, I saw a lot of examples of people that loved each other but could not live with each other. But I'm certainly not against marriage."
CHRIS MAREK
Marek is a real estate agent based in Oregon who reportedly attended Portland State University to earn a degree. He currently works for Knipe Realty but has been in the industry for over 19 years.
"I take great pride in offering a superior service to my clients. If you're in the market to buy or sell a home please give me a call, I'd be happy to discuss your needs and provide advice at no obligation to you," he wrote on his profile.
Roloff's family has been supportive of their relationship. In fact, he often hangs out with her relatives and friends and gets along with them pretty well. Based on her constant Instagram posts, he seems to be in love with her and her with him.
Please fill in your e-mail so we can share with you our top stories!