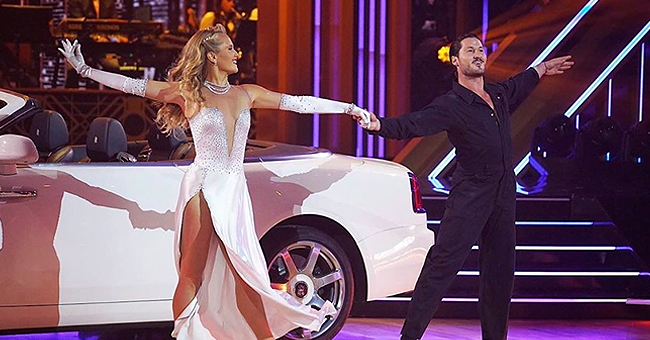 instagram.com/sailorbrinkleycook
DWTS: Details about Sailor Brinkley-Cook Who's Replacing Mom Christie Brinkley after Her Injury

"Dancing With the Stars" star, supermodel Christie Brinkley suffered a series of injuries during rehearsals that required her to have wrist and arm surgery. This led to her being unable to participate in the rest of the season.
The sad news broke out on Monday's Good Morning America and also through a release from the BBC Studios.
Brinkley, who seemed to be in good spirits as she joked about her injury said,
"Showbiz is all about getting a break, and Sailor and I both got one on Dancing With the Stars this season. Sailor joined the cast when I got mine…ouch somebody stop me, it hurts to laugh!"
As a result, her daughter Sailor Brinkley-Cook will be taking her role on the show. Reacting to the unexpected change, Sailor who perfectly fits into her mom's performance outfit as she gets ready for the show premiere told GMA, she was excited about the challenge.
Sailor has a modeling career and has met with a lot of success as a signed model with top agency IMG. Elaborating on her feelings about joining DWTS, she said:
"I felt this high of just attacking something I was so afraid of, and it felt like something I need to do," she told GMA. "I think it will change me."
Since Christie was injured well into the two-week rehearsal period before the DWTS season premiere, Sailor stepped in to learn the dance after other celebrities already had tons of time to rehearse their numbers and learn their dancing moves in the ballroom.
The model turned actress has modeled for brands such as 1.State and CAMILLA and magazines such as Stellar Mag. Just a week before she unexpectedly joined the DWTS cast, she was a guest at Harper Bazaar's ICONS events.
21-yr-old Sailor is the youngest of Christie Brinkley's three children. The supermodel has a 33-year-old daughter, Alexa Ray Joel who is a singer-songwriter and a 24-year-old son named Jack.
Brinkley shares Sailor and Jack with her ex-husband Peter Cook, and Alexa's father is a famous musician Billy Joel, to whom Brinkley was married from 1985 until 1994.
Sailor is in a relationship with Benjamin Sosne, and the two often share photos of each other on Instagram. Sosne is an artist who sells his work through the online Wildcard Gallery.
However, the 21-year-old is expected to have a lot of support from her existing fans from her injured mother's camp and also make her own great strides on the screen.
Please fill in your e-mail so we can share with you our top stories!