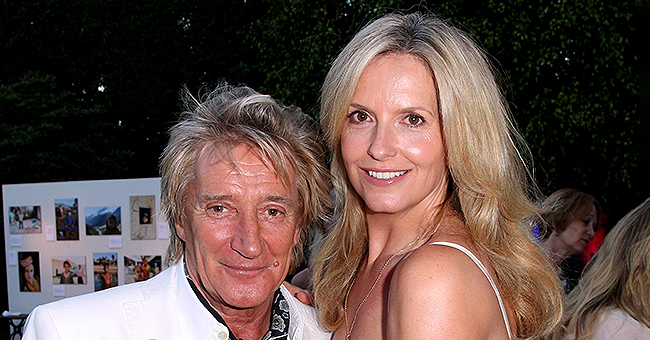 Getty Images
Legendary Rocker Sir Rod Stewart's Wife Penny Lancaster Admits She Thinks of Losing Her Husband
Rod Stewart's wife shared her fears about her marriage to singer Sir Rod Stewart and confessed that she sometimes thinks of losing him.
The shocking revelation was made on Friday's episode of Penny's talk show "Loose Women," as revealed by Daily Mail.
The women of the show were discussing the trend in older women tying the knot and asked if any of them was afraid of growing old alone.
That was when Penny revealed that she sometimes dwells on the thought that her husband would pass away before her given that 26-year age gap.
She said:
"Rod's in his 70s, and we have a huge family base at home. My life is based on the family. On occasion I think, when I'm Rod's age, I won't have my husband and the children will be grown up and gone and I have to prepare."
Luckily, Rod's absence would not be too hard on the former model as she revealed her mom, and Rod's sister have shown her a perfect example of what life without Rod would look like.
Lancaster added:
"But my mum and Rod's sister [are] great examples in their 70s and beyond, and they have a huge number of friends who they have great weekends away with and hobbies, and they keep themselves busy all the time, in fact, I can never track them down. I think if I follow their guidelines, I'll be just fine."
Penny's fear comes as no surprise as her rockstar husband recently came out with his health battles.
The British singer revealed during a fundraising event that he battled and conquered prostate cancer secretly for the past three years.
According to Mirror, the 74-year-old music legend spoke about how he was diagnosed with prostate cancer in 2016 during a routine checkup.
He disclosed:
"Two years ago, I was ­diagnosed with prostate cancer. No one knows this, but I thought this was about time I told everybody. I'm in the clear, now, simply because I caught it early. I have so many tests."
Luckily, Rod caught the signs early and stated that he had beaten prostate cancer. He also encouraged men to get their prostates checked before it gets too late.
Please fill in your e-mail so we can share with you our top stories!