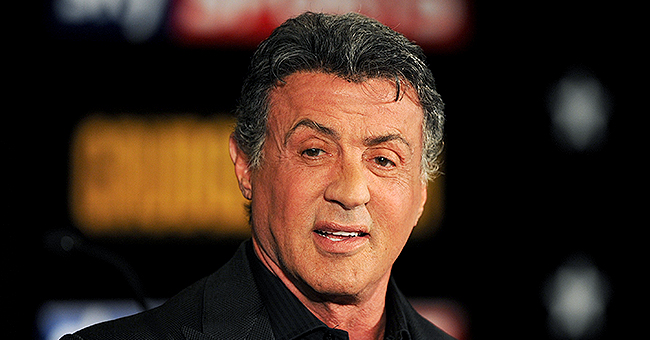 Getty Images
'Rambo' Star Sylvester Stallone Enjoys London Outing with Daughter Sophia in Pretty Summer Dress
The action man and his wife proudly walked beside their eldest daughter as the three walked out in Rome, and Sophia looked every bit like a star.
73-year-old Sylvester Stallone was in Italian holiday recently accompanied by his wife 51-year-old Jennifer Flavin and the couple's 23-year-old daughter Sophia, and the famous family surprised everyone in Rome as they walked the streets.
While she is still nowhere near the star status of her legendary father, Sophia stole the show as the three (plus bodyguards) when out in the Italian capital. The model looked stunning in a black dress with spaghetti straps and a sweetheart neckline.
Sylvester Stallone and his three daughters Sophia, Sistine, and Scarlet. I Image: Getty Images.
OUT IN ROME
Sophia added a pair of tan sandals to the ensemble, completing her summer look. She wore a pair of edgy sunglasses and wore her hair down in soft waves. As an accessory, she carried a designer bag from luxury retailer Chanel.
The "Rocky" star wore a black t-shirt and jeans and he was seen in good spirits walking with his arm around his daughter's shoulder. Sylvester was also seen taking a snapshot at Sophia.
Flavin matched her daughter in glamour, sporting a white floral dress. The trio caught much attention from passersby, with several fans taking pictures at them.
Later that same day, Sophia joined her parents at Pierluigi restaurant, wearing a different outfit consisting of a white, flower-patterned top and miniskirt, this time keeping her hair back in a messy bun.
STOPPING BY THE UK
After leaving Italy, the three members of the Stallone family traveled to England, where Sylvester appeared at a promotional event for his latest film "Rambo: Last Blood" in the city of Manchester, which included a meeting with his fans.
On September 8, Sylvester had some more time to spend bonding with Sophia, with the two appearing in a snapshot on Sylvester's Instagram feed. He stuck to his black t-shirt and jeans while Sophia wore a black summer dress.
In the caption, Sylvester announced his return to the US where he has continued to promote the last installment of the saga about one of the most famous characters he has played in his long career.
THE STALLONE CHILDREN
Besides Sophia, Sylvester and Flavin are also parents to 21-year-old Sistine and 17-year-old Scarlet, who are also professional models just like their older sister.
Sistine is still attending USC, the same college where Sophia graduated the past July. Sistine also just debuted as a movie actress in the horror film "47 Meters Down: Uncaged," and the Stallone clan was there at the LA premiere in support.
The youngest of Sylvester's children, Scarlet, is still in high school, but she has already taken her first steps in the fashion industry.
Sylvester is also father of two sons with his first wife Sasha Czack. The oldest of them, Sage, died in 2012, aged 36. He was an actor, director, and producer, following his father's steps.
40-year-old Seargeoh, known as Seth, had an uncredited appearance in "Rocky II" in 1979, playing the lead character's son Robert Balboa Jr.
Please fill in your e-mail so we can share with you our top stories!