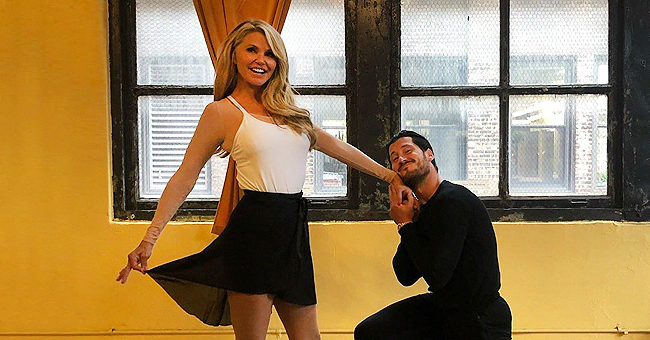 instagram.com/valentin
Val Chmerkovskiy Feels 'Devastated' after Christie Brinkley Leaves the Show Due to Surgery

Val Chmerkovskiy penned a sweet letter to his "Dancing With The Stars" partner, Christie Brinkley, after she left the show due to an accident during rehearsals, which may restrict her from performing to the best of her abilities.
Christie Brinkley was all set to dance her heart out and win the judges over with a killer performance, but only days before the show, she met an accident that prevented her from competing. Brinkley broke her arm and asked her daughter, Sailor, to take her place.
Meanwhile, her pro dance partner, Val Chmerkovskiy graciously accepted her daughter to be his new partner but was left "devastated" hearing the news. He wrote a sweet post on Instagram, dedicated to Brinkley.
"I got a chance to meet and absolutely fall in love with the beautiful soul that is @christiebrinkley , the epitome of class," he wrote. "Here's a person that's as generous and kind as she is stunning and witty. I learned so much from just two weeks and truly had some of my favorite times ever working on the show."
He then proceeded to talk about the impeccable timing Sailor had, who flew to LA to support her mom. In only three days, she took on the challenge to learn and perfect a dance, making her mom proud.
During Monday's premiere, Sailor stunned the audience in a white, floor-length gown and danced the foxtrot to the tune of Billy Joel's "Uptown Girl." Shortly after her performance came to an end, Brinkley gave her daughter a tight embrace and told her, "I am so proud of you."
The judges, Bruno Toniolo, Carrie Ann Inaba, and Len Goodman, gave the pair a score of 18/30, which may at first glance be low, but is on average compared to the other ratings given to the contenders.
The 65-year-old supermodel shared her sentiments over the accident, which forced her to withdraw from the competition. She told PEOPLE of the "devastating" and unfortunate incident:
"The second I landed, I felt the shards in my arm," Brinkley said. "Like, I literally felt it in my wrist, and I just instantly looked up and said, 'I'm so sorry, I broke my arm.'"
On the other hand, Sailor revealed that her mom was a significant factor as to why she agreed to take her place. She knew the injury hurt her mom badly, and so she wanted to make Brinkley "happy and proud."
Please fill in your e-mail so we can share with you our top stories!