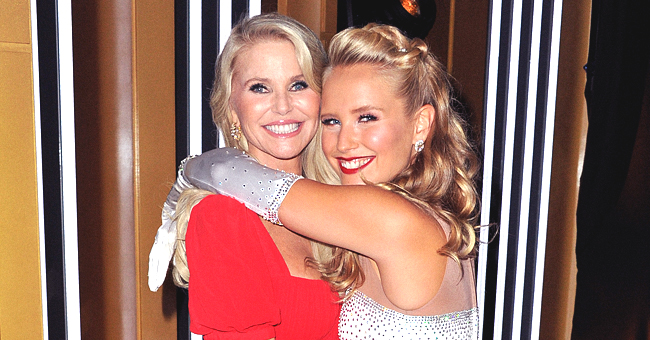 Getty Images
Christie Brinkley's Daughter Sailor Replaces Injured Mom on DWTS after Only 3 Days of Practice

Christie Brinkley's debut dance performance on "Dancing With The Stars" never pushed through after a hand injury forced her to withdraw from the competition. Her daughter, Sailor, stepped in and took her place with only three days to practice.
Christie Brinkley was ready to wow the crowd with an outstanding foxtrot dance to Billy Joel's "Uptown Girl," but never reached the stage after an unfortunate accident that happened during rehearsals.
Her daughter, Sailor, took her mom's spot on the hit dance competition but had to learn and master the choreography in only three days, while Brinkley originally had three weeks. Nevertheless, she was able to woo the audience with a lovely performance.
"Showbiz is all about getting a beak, and Sailor and I both got one on 'Dancing With The Stars' this season," Brinkley joked. "Sailor joined the cast when I got mine."
ACCEPTING THE CHALLENGE
In an interview for DWTS, Sailor, who is a model as well, admitted never to have danced before. A significant part of why she accepted the challenge was to "pay homage" to her mom, who was really excited about the show.
"I have never danced before. I'm a model," Sailor said. "Now here I am, and it's scary, but I feel this adrenaline rush from wanting to pay homage to my mom. My mom's had three weeks to prepare this dance, and now I have three days."
TAKING THE STAGE
On Monday's premiere, Sailor took the ballroom floor with pro partner Val Chmerkovskiy by storm in a white floor-length gown, which was Brinkley's first dress made with "no alterations." Judge Carrie Ann Inaba pointed out the age gap between the girls and how "crazy" it was for the same dress to fit both.
As for her performance with Chmerkovskiy, the judges gave them an overall score of 18/30, which isn't entirely bad compared to the other contenders who got around the same average. Inaba commented:
"I'm just blown away. Three days versus three weeks. You have a poise and incredible spirit that moves through your dance."
A PROUD MOM
After her performance, Brinkley gave her daughter a tight embrace for giving her a proud mother moment. She held back her tears while telling her daughter how proud she was.
"I am so proud of you, Sailor," she said.
Although Brinkley was not able to get her chance to dance her heart out on the show, the experience gave her and her daughter something always to treasure and remembered. Sailor still has a fighting chance on the show, and everyone is hoping for the best.
Please fill in your e-mail so we can share with you our top stories!