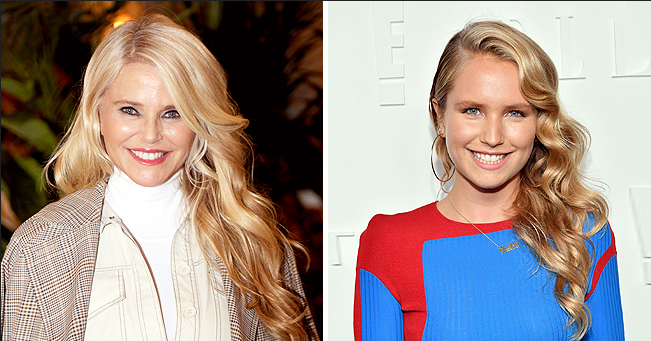 GettyImages
DWTS: Christie Brinkley's Daughter Sailor Will Reportedly Dance in Mom's Dress Following Her Injury
Beside replacing her mother in the new season of "Dancing with the Stars," Christie Brinkley 's daughter will also be wearing her dress with no alterations.
Just before the premiere of the new "Dancing with the Stars" season, ABC announced that Christie Brinkley suffered an injury during rehearsals and won't be joining in the competition.
The statement from ABC studios revealed that Brinkley suffered injuries which required surgery to her wrist and arm. Hence, she will no longer participate in the competition.
The media outlets also wished the supermodel "a full and speedy recovery" with a hope to see her in the crowd supporting her youngest daughter.
Christie is, however, keeping a positive outlook despite the injury. In a statement to Good Morning America, the model joked about the incident, saying:
"Showbiz is all about getting a break, and Sailor and I both got one on Dancing with the Stars this season. Sailor joined the cast when I got mine. Ouch somebody stop me, it hurts to laugh!"
Part of Christie's excitement might come from ABC's announcement that her daughter, Sailor Brinkley-Cook will replace her.
While it will be a challenge, Sailor is excited to be filling her mother's shoes in the competition. What's even more thrilling is that the 21-year-old fits into her 65-year-old mother's costume.
That tidbit of news got one of the competition's judges, Carrie Ann Inaba, excited as she told PEOPLE:
"Good news is that Sailor is going to dance and she's going to wear Christie's dress. This is crazy. Christie is 65; Sailor is 21. The dress needed no alterations."
The TV host is also excited for the premiere and run of the show which is in its twenty-eighth
season
:
"And it's going to be intense because tonight, I just want you to know, the judges are going to be pretty intense. We're going back to old school. We want to see authentic Ballroom Latin dancing."
The 51-year-old longtime judge hinted at the "major changes" that DWTS will undergo during the new season, during a sit down with Entertainment Tonight.
She revealed that the judging system specifically will be adjusted.
In her words:
"I do know that we made some adjustments to the judging because we got a lot of complaints. But you'll have to tune in on Monday to see what they are. The people have spoken. And we listened. And we have a new set. It's going to be amazing! Lots of changes.
Fans of "DWTS" are sure in for a memorable ride this new season!
Please fill in your e-mail so we can share with you our top stories!