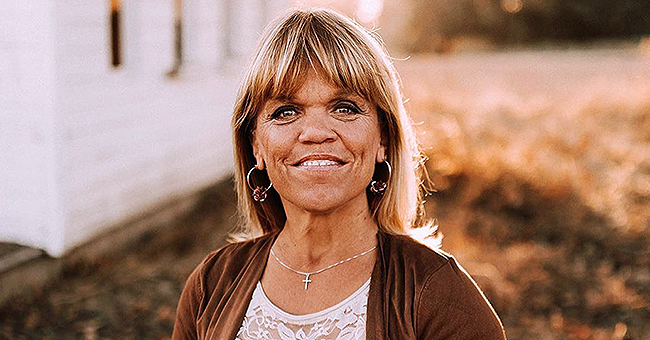 instagram.com/amyjroloff
Amy Roloff's Birthday Post Shows Baby Jackson Helping Her Blow Out Candles
Always the doting grandmother, Amy Roloff showed off her loving family especially her grandson in a series of pics and a video of her recent birthday celebration on social media.
"Little People, Big World" star, Amy Roloff just turned fifty-five. The matriarch of the Roloff clan celebrated the day surrounded by her family.
She later took to Instagram to share glimpses into their celebrations. Her post consisted of two pictures and a video.
The first picture was a family group picture of some of her children and grandchildren with her at a restaurant. She revealed in the caption that Jeremy, Audrey, Ember, Molly, and Joel were missing.
"My greatest gift I could ask for on my birthday are my kids and grandkids. Each moment I spend with them is priceless memories. Thank you so much, Isabel, Jacob, Zachary, Tori, Jackson," read the caption.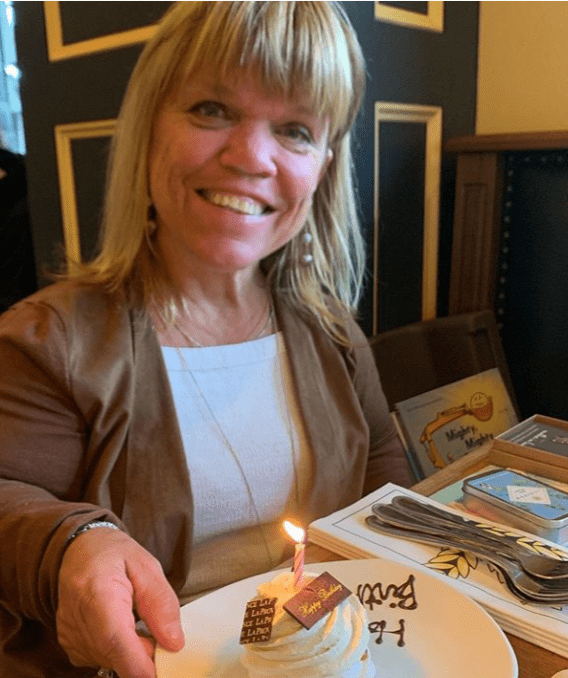 Amy Roloff smiles brightly at the camera while celebrating her birthday | Instagram: @amyjroloff
"I love you all forever and always. What a wonderful beginning to my birthday day! " concluded Amy's caption.
The second picture showed the beautiful mom of four smiling happily while holding a plate of cake with a candle. The plate had Happy Birthday written in chocolate sauce.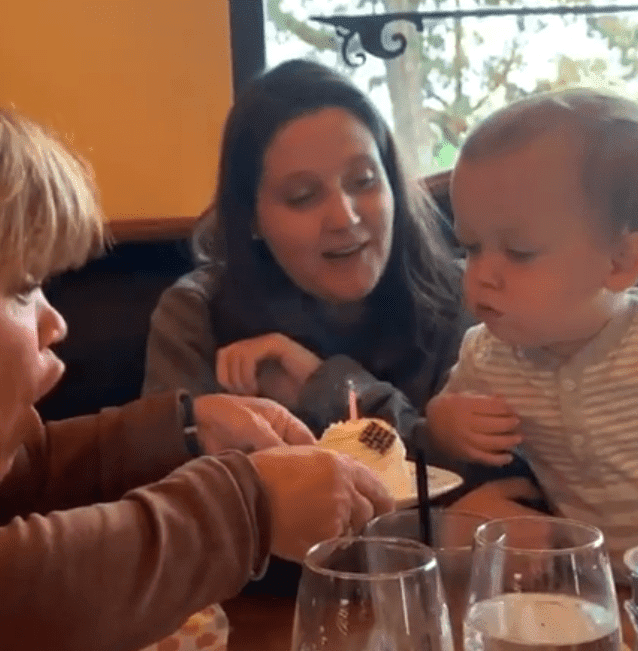 Amy Roloff and her Grandson blow out the candle on her cake | Instagram: @amyjroloff
However, it was the last part of her post that really struck a chord with fans. In the final video clip, Amy turned to her grandson Jackson and asked if he wanted to help her blow out the candle on her cake.
The eager baby immediately moved towards the plate and eagerly helped his granny blow out the candle. Like any doting grandmother, Amy looked on with a loving expression.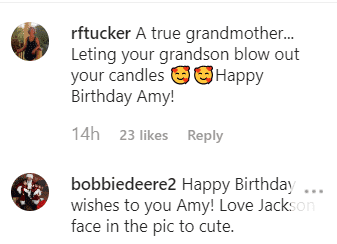 Fans wish Amy Roloff Happy Birthday on Instagram | Instagram: @amyjroloff
The post garnered over fifty-three thousand likes. Fans flooded the comments section to wish Amy Happy Birthday and praise her for being such a loving granny.
"Those grandchildren are really special. Happy birthday Amy!" commented one fan. Another added, "Happy Birthday! That is so cute how he blew out the candle."

Fans flood Amy Roloff's Instagram with birthday wishes | Instagram: @amyjroloff
It's not the first time Amy showed off her family. Earlier this year she posted glimpses of their family Christmas celebrations on social media as well and fans had been blown away by how fast baby Jackson was growing.
Please fill in your e-mail so we can share with you our top stories!