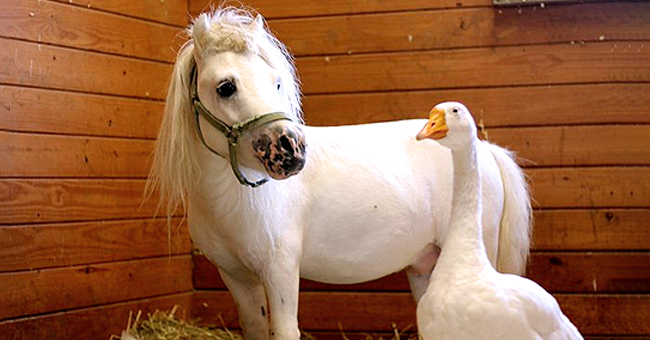 twitter.com/emilybabay
Waffles and Hemingway, Rescued 'Inseparable' Mini Horse and Goose Pair, Find a Forever Home
Waffles, a mini horse, and Hemingway, a goose, have found a forever home. The "Inseperable" best friends will now share a loving place in Philadelphia.
Waffles and Hemingway were rescued from a local farm to the Bucks County animal shelter on the grounds of unsanitary and neglectful living conditions.
The two farm animals had developed an unlikely kinship during their time spent sharing the same barn stall.
Waffles and Hemmingway had grown so close to one another, that the Bucks County animal shelter put out a condition -- both of them had to be adopted together.
THE DEEP BOND OF WAFFLE AND HEMINGWAY
The friendship of Waffle and Hemingway went viral after it was covered in stories by Morning America, NPR, and CNN.
"We just had Waffles out for a walk, and Hemingway gets a little bit worked up," Kelly said. "When Waffles is brought back into the barn, the first thing he does is drop in the hay and roll around, and they just seem more relaxed and happy."
The farm animals had suffered inadequate shelter and limited drinking water in the farm they previously called home. They were rescued from the property in the Hilltown Township.
The previous owners of the adorable pair have been charged with animal neglect, but the case is still pending.
THE INSEPARABLE PAIR GETS ADOPTED
In the end, however, the inseparable animal pair found a forever home with a Philadelphia woman employed at a veterinary institution. She also has experience with large animals. But she wanted her identity to remain unknown to the general public.
SPCA spokesperson, Cindy Kelly disclosed that the woman was selected because she had the necessary resources to take good care of large animals. Also, her farm was close to the shelter.
"Waffles and Hemingway have left our barn for their new home! We will miss them, but we couldn't be happier for this special pair. Waffles hopped right in, ready to go with his best friend by his side. They went home with wonderful adopters who are experienced with horses and have other farm friends for Waffles and Hemingway to meet," captioned Bucks county on facebook.
They wished many sunny days and green pastures for the inseparable pair, as the farm animals boarded their transport to their new home.
Such stories of animals finding suitable homes for them is heartwarming. Previously, the Jacksonville Humane Society managed to find homes for nearly all of its sheltered animals before the devastating hurricane Dorian hit Florida.
Please fill in your e-mail so we can share with you our top stories!